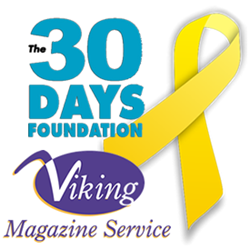 Burnsville, Minnesota (PRWEB) August 19, 2013
Viking Magazine Service ("VMS") is pleased to announce they have made $500 donations on behalf of their customers and employees to both the 30-Day Foundation of Minnesota and The Yellow Ribbon Foundation of California. The donations will be used to help support both families and veterans facing real life financial crisis. "Providing assistance to those in need is the right thing to do, and that is what our company has always been about," comments David Moulder, CEO of Viking Magazine Service.
Selecting these charities was easy as their core values are directly aligned with Viking's, making the decision to donate was a no-brainer. Here's some additional information about both of these great organizations.
The 30-Days Foundation is a unique and streamlined foundation that exists solely to help people facing real life financial crisis. They believe that unexpected financial setbacks that happen to individuals and families have a tendency to multiply quickly. Once they start happening, what often results is the financial burden upon caregivers and their children, or individuals, can seem overwhelming. So overwhelming that many people fall into a spiral of bad luck, and bad financial decisions result.
The 30-Days Foundation believes that sometimes, if just one financial burden can be lifted, it's a game-changing moment for people in need. That is what they do, they help ease people's burden a bit so they can get back on track.
The Yellow Ribbon Foundation's mission is to help fulfill the unmet needs, (Food, Shelter, Clothing, Medical & Education), of Veterans who served in the United States Military. They are a registered and fully reporting 501 (C) (3) non profit charitable organization. From the beginning supporters took action with donations. The requests far exceeded the supply of funds so a decision was made in 2003 to re-think the organization in order to meet the demand for help. The results, we feel are dynamic.
You can donate to both of these great causes by visiting the donate pages on their websites, and we encourage everyone to help.
In its 18 years of existence, Viking Magazine Service has earned an excellent reputation with both the publishers and consumers for reliability, dependability, and integrity. Their mission is to provide consumers and their families with the highest quality magazines at the most affordable price, while assisting the publishers in maximizing their ability to reach our shared target consumer.
To learn more about Viking Magazine Service please contact customer service at 1-800-339-9492.