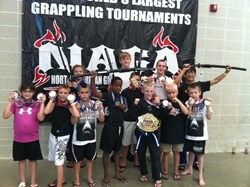 "These kids are going to NAGA and Grapplers Quest and are consistently performing well."

- Julius Park, Head Instructor
Baltimore, MD (PRWEB) August 18, 2013
Beginning September 1, Crazy 88 will be adding an advanced Black Belt Club class to the schedule to help meet the needs of the rapidly improving skills of the children at the academy.
Crazy 88 has already established itself as being one of the premier martial arts schools in the Baltimore area. The school has consistently produced championship competitors who started in the program before the age of 18.
The system developed by Crazy 88 has given them the ability to help teach children of all ages confidence by challenging their bodies and minds. Discipline has been instilled in many of the children by being a part of a structured classroom environment. In addition, the kids learn self defense by training in a professional environment with well qualified instructors.
Children who have shown discipline and focus during their first four months at the school are eligible to participate in Black Belt Club. Once invited into the program, the kids in these classes train in a more structured class with particular interest given to sparring and more advanced techniques.
After seeing such rapid growth in the program, Head Instructor, Julius Park, chose to speed up the development of advanced skills by adding an Advanced Black Belt Club class. The purpose of the class is to separate out the kids that have been in the program for several years and to be able to continue to challenge them.
Park stated, "We've had kids who have been in the program for several years now and that includes the summers. These kids are going to NAGA and Grapplers Quest and are consistently performing well. I think it's only right to reward these children with a more advanced class to help challenge them in their martial arts and overall development."
For more information about Crazy 88 - Elkridge visit http://www.BaltimoreMixedMartialArts.com or call (443) 283-1450. To learn more about Crazy 88 - Owings Mills go to http://www.Baltimore-MMA.com or call (410) 999-1064.