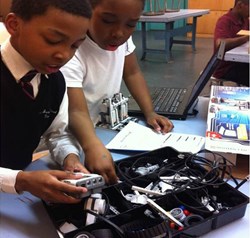 New York, NY (PRWEB) August 19, 2013
The Boys' Club of New York, the city's oldest organization focused solely on preparing boys and young men to achieve their full potential, today announced it has received $10,000 as part of the Innovation Generation grant program from the Motorola Solutions Foundation, the charitable arm of Motorola Solutions, Inc. This grant will support and enhance The Boys' Club of New York's (BCNY) All Hands on STEM! program that will provide project-based, hands-on programming for about 300 boys aged 6 to 20.
Since 2007, the program has provided $3.4 million in support of science, technology, engineering and math (STEM) education programs, supporting more than 400 school, museum and nonprofit programs across the United States and Canada. The Innovation Generation program awards funds to organizations such as [Organization] that foster and support STEM initiatives for teachers and U.S. preschool through university students – especially girls and underrepresented minorities.
"We are so honored to partner with organizations like BCNY who are helping to create the world's future innovators and technology professionals," said Matt Blakely, director, Motorola Solutions Foundation. "As a company dedicated to helping people be their best in the moments that matter, Motorola Solutions could not be more honored to support programs such as BCNY."
Innovation Generation is a part of Motorola Solutions' larger commitment to engaging youth in STEM education. Beyond funding, BCNY will receive ongoing support from Motorola Solutions employee volunteers, who will act as mentors, tutors and experts in STEM careers.
For additional information on the Motorola Solutions Foundation grants programs, visit: http://responsibility.motorolasolutions.com/index.php/solutions-for-community/ and for more information on BCNY please visit bcny.org.
About The Boys' Club of New York
The Boys' Club of New York is committed to nurturing, mentoring and guiding boys and young men to prepare them to reach their fullest potential. Throughout its 137-year history of youth development, The Boys' Club of New York has combined a single-minded focus on boys and young men with a unique, multi-disciplinary approach that prepares them for a fulfilling and meaningful adulthood. The Boys' Club of New York accomplishes this through an approach that includes music and arts programs, social and recreational activities, academic support, and athletics.
By introducing boys to new ideas, expanding their interests, developing their real-world skills, providing a safe and nurturing environment, and offering ongoing counseling and mentorship, the Boys' Club of New York helps shape boys and young men into the best men they can be.
About Motorola Solutions Foundation
The Motorola Solutions Foundation is the charitable and philanthropic arm of Motorola Solutions. With employees located around the globe, Motorola Solutions seeks to benefit the communities where it operates. The company achieves this by making strategic grants, forging strong community partnerships and fostering innovation. The Motorola Solutions Foundation focuses its funding on public safety, disaster relief, employee programs and education, especially science, technology, engineering and math programming. For more information on Motorola Solutions Corporate and Foundation giving, visit http://www.motorolasolutions.com/giving.
# # #
For further information, please call Helen Frank, Communications Manager,
347-505-5416 or helen.frank(at)bcny(dot)org.