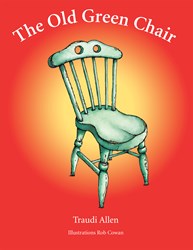 'I think children's books tend to be either purely narrative orientated or purely lesson driven,' Allen said. 'I hope that this book is first and foremost an enjoyable read.'
Melbourne, Australia (PRWEB) August 19, 2013
Dr. Seuss once said: "It's not about what it is, it's about what it can become."
"The Old Green Chair" is a richly illustrated children's book by Traudi Allen that tells the story of a decrepit chair, thrown aside after years of use that finds renewed life thanks to its positive attitude and a new owner's clever imagination.
Allen wrote the book as a modern family fable to help children learn the values of creativity, optimism and problem solving, among other life lessons.
"By bringing these ideas down to a fun and engaging level in the form of modern fables," Allen said, "even the tiniest tot can enjoy learning about them and seeing how they make life easier."
"The Old Green Chair" is the second in Allen's House Series of Picture Books for Children, a series of fables that communicate key lessons to children. Each book tackles important topics from conflict resolution to maintaining a positive outlook in ways that get families talking about valuable social skills.
"I think children's books tend to be either purely narrative orientated or purely lesson driven," Allen said. "I hope that this book is first and foremost an enjoyable read. I would love it to be a favorite bedtime story, but one that also acquaints children with deeper life lessons."
For more information, visit http://thehousepicturebooks.com/.
The Old Green Chair
By Traudi Allen; Illustrations by Rob Cowan
ISBN (e-book): 978-1-45250-614-2
ISBN (softcover): 978-1-45250-598-5
Available for purchase at Balboa Press, Barnes & Noble and Amazon
About the author
Dr. Traudi Allen is a writer and art historian with a long record of publication. She has published books on some of Australia's most significant artists and art movements along with numerous articles, essays and reviews. She has lectured in art history and for many years presented interviews on art subjects for ABC radio. She is also currently completing a book of historical fiction for adults. For more information, visit http://www.traudiallen.id.au/.