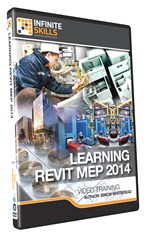 Learn Revit MEP 2014 at your own pace.
(PRWEB) August 22, 2013
Software training firm Infinite Skills Inc. this week introduced its "Learning Revit MEP 2014 Training Video," a course teaching tools in Revit 2014 designed for modeling mechanical, electrical, and plumbing features of buildings for building analysis and documentation.
Revit 2014 MEP uses Building Information Modeling (BIM) to help drive accurate design, analysis, and documentation of efficient building systems from concept through construction. The Revit MEP toolset specifically targets tools for modeling and storing information about piping, air ducts, and electrical conduits, creating a reliable resource for documentation and analysis throughout a building's lifecycle.
The Infinite Skills' "Learning Revit MEP 2014 Tutorial" explains how to model all these features and more, containing additional chapters on using this information to analyze building efficiency, view modeled spaces, document building specifications, and collaborate with others in a multi-user workflow.
Learning Revit MEP 2014 Training Video - DVD
Course author Simon Whitbread is a professional in architecture and building services. He has almost twenty years' experience in the CAD industry setting up CAD systems and standards. Since 2002, Whitbread has been focused specifically in Revit training and implementation for a major Autodesk solutions provider. In addition to having authored the training manuals, "Mastering Revit MEP," Whitbread also regularly presents at the Revit Technology Conference and Autodesk University.
After introducing some basic Revit concepts, explaining files, families, templates, and some other useful tips for navigating and customizing Revit, Whitbread offers an extensive chapter covering the new features in the 2014 version. He divides updates into those applying to the overall platform, such as the new temporary view properties feature and new double-click editing options, and then covers features and tools that are specific to certain uses of Revit, such as energy analysis and the new plumbing template.
From there, Whitbread covers basic editing tools such as selection, copying and pasting, rotating, and the array tools, before explaining the process of starting a new project, including how to link to, and work with, existing Revit models.
The foundation of the course are the chapters containing highly detailed explanations of how to create, design and edit HVAC systems, hydronic piping systems, plumbing systems, and electrical systems with Revit MEP tools. Additional chapters explain how to add detail, create documents, and use Revit MEP models in a collaborative work environment.
Free demo videos and a full list of course contents can be found on the Learning Revit MEP 2014 training page on the company website:
http://www.infiniteskills.com/training/learning-revit-mep-2014.html
InfiniteSkills offers the Learning Revit MEP 2014 Tutorial either as a DVD or a direct download from the company website at a retail price of $99.95. InfiniteSkills tutorials are compatible with both Mac and Windows operating systems. Shipping is available around the globe. Additionally, InfiniteSkills tutorials are supported by project files which correspond to examples in the videos.
About InfiniteSkills Inc.
A leader in the field of software training, InfiniteSkills designs its courses on a task-oriented model, teaching complex skills by providing hands-on examples and guiding users as they carry out essential functions. InfiniteSkills offers a wide range of software titles available as DVDs, digital downloads, and in iPad editions, keeping with company aim of delivering professional training to customers anywhere they want to learn.