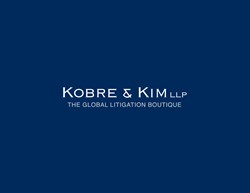 (PRWEB) August 19, 2013
Kobre & Kim LLP was ranked as one of the most highly regarded judgment enforcement/asset recovery firms in the world by Who's Who Legal. In addition to the firm's ranking, several of the firm's attorneys were also recognized as outstanding practitioners in the field.
Founding partner Michael S. Kim received particular mention as one of the most highly regarded individuals in the field worldwide. Additionally, British Virgin Islands office partner Tim Prudhoe won praise for his "sophisticated handling of asset recovery matters," and Washington DC office partner Andrew C. Lourie was recognized for his exceptional work in asset recovery.
Who's Who Legal focuses on identifying the foremost legal practitioners in 32 areas of business law. Nominees are selected based upon comprehensive, independent survey work with both general counsel and private practice lawyers worldwide. Only specialists who have met independent international research criteria are listed. The guides feature private practice lawyers in over 100 countries and pride itself on the integrity and authority of its findings.
At Kobre & Kim LLP, we devote 100% of our practice to litigation and arbitration, conducting much of our work as special conflicts counsel in international financial and commercial cases. We have a unique business model in that we focus on discrete special litigation counsel engagements. As such, we offer clients a conflict-free team of advocates able to act against virtually any institutional entity.
We are the only litigation boutique that focuses on cross-border litigation and international investigations, offering U.S.-qualified attorneys working alongside English barristers and solicitors, working out of offices in Asia, the Caribbean, Europe and the United States. Many of our cases involve simultaneous proceedings in various U.S. and non-U.S. courts, as well as the offshore jurisdictions and various major international dispute resolution centers around the world.