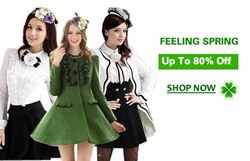 (PRWEB) August 17, 2013
Recently, 4leafcity.com which is the leading online store dealing with women and men clothes, has added dazzling new dresses to its new collection of cheap women's coats (see: http://www.4leafcity.com/product-women-s-coats-003012001.aspx). Along with this, the company has also updated its cheap Clubwear dresses and long sleeve dresses for women.
These new designs of women's coats are highly in demand in the global market and the company ensures all its products are produced following the latest fashion trends. The dresses have different designs including sequins, floral patterns and much more. Best quality chiffon and silk fabric are used in making these dresses so that they look ravishing and feel comfortable to wear as well.
It is the company's policy to offer discounts and promotional deals from time to time and with the Chinese dress collection customers can get beautiful four petal necklace free of cost. In addition to this, a coupon worth dollar five can also be secured on purchases amounting to dollar hundred.
The company ships products worldwide and they have a secure purchase system and a reliable delivery setup with which customers can get their order within a few days. With a wide range of clothes for men and women and the facility of promotional deals,
4leafcity.com is probably the best place to buy clothes for both men and women. Now, the website also features many long sleeve dresses for women (see: http://www.4leafcity.com/product-long-sleeve-dresses-003004007.aspx).
4leafcity.com is an online store for men and women clothes. The company was established in the year 2008 and is based in China. More details can be found at http://www.4leafcity.com