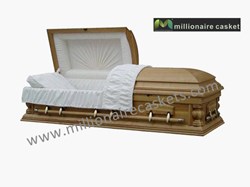 (PRWEB) August 19, 2013
MillionaireCasket.com is a leading casket company in the industry, offering many solid maple, oak, pecan, pine, poplar, walnut wood caskets and more (see http://www.millionairecasket.com/category/product/solid-wood/). Today, the company launches a wood casket promotion, up to 29% off, for every casket distributor around the world.
"We are happy to introduce the promotion to the casket distributors, and we would like to say "thank you very much" to everyone. Now, every distributor can enjoy the discounts when buying our solid wood caskets before Sept. 15, 2013. Or you may be spending an extra $1500 dollars after that date," says the CEO of the company.
As a professional casket manufacturer, the company offers flexibility in terms of material species, finish and color, interior fabric and styles. The wood caskets from Millionaire Casket are absolutely 100 percent manufactured with top craftsmanship and materials, and they are of premium quality products from the company.
The company seeks to benefit the distributors around the world. The company aims to be a one-stop funeral supplier, offering a wide range of metal caskets, cremation caskets, solid wood caskets, veneer caskets and more.
About MillionaireCasket.com
MillionaireCasket.com is a leading China casket manufacturer. Their experience and in-depth knowledge in the casket industry is recognized widely. The standard quality control policy is strictly applied here, and a third party quality assurance is also available.
More details can be found at http://www.millionairecasket.com/