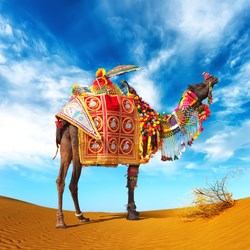 Would you believe… a camel festival?
Toronto, Ontario (PRWEB) August 22, 2013
What attracts over 300,000 visitors, 20,000 animals and turns hotel rooms in the town of Pushkar months into one of India's rarest commodities?
Would you believe… a camel festival?
In 2013, Goway Travel is pleased to announce the November 2 departure of one of its most popular India tours, India Odyssey, which will coincide with Pushkar Fair, one of the largest camel trade fairs in the world. Each year in the Rajasthan desert, Pushkar, a picturesque town of barely 15,000 people explodes with traders and curious visitors. Many also come to bathe in Pushkar Lake, from which the Hindu god Brahma is said to have risen under the light of a full moon. With that said, Camels don't drink and in Pushkar, neither does anyone else. The town is considered sacred because of the lake, and alcohol and meat are forbidden (though local waiters have been known to offer a sly beer to the lucky visitor!).
The November 2 departure also coincides with Diwali, the five-day Hindu festival of lights. This sacred, yet celebratory festival is marked by the lighting of oil lamps to welcome Lakshmi, the goddess of wealth and prosperity, as well as fireworks to scare off evil spirits.
Rajasthan is India at its most vibrant, and Goway's India Odyssey, a 14-day round trip departing from Delhi, covers all the highlights. Delhi has been the centre of Indian politics for decades, with sights including the Red Fort and the India Gate. Udaipur may be India's most beautiful city, with towering palaces and picturesque lakes. Craft-savvy Jodhpur is known as the Blue City for the distinctive colour of its houses, while Jaipur is a quintessential Rajasthan, bustling by in the shadow of the beautiful Amber Fort. Globetrotters also have the chance to see Bengal Tigers among other wildlife at Ranthambore National Park, and of course, the sun rising over the Taj Mahal is an essential sight for any first time visitor.
Goway's India Odyssey is an unforgettable journey at any time of year. Timed to coincide with two of the region's most exciting festivals at no extra cost, it's simply sensational!
This special November 2 departure is priced at just US$3799 from New York flying Virgin Atlantic, and C$3889 from Toronto flying British Airways. Prices include international airfares and all applicable taxes. Bookings must be made by September 15.
Since 1970, Goway has been providing unforgettable travel experiences to Africa, Asia, Australia and New Zealand, idyllic island destinations and Latin America. Today Goway is recognized as one of North America's leading travel companies for individuals, families and groups to select exotic destinations around the globe. Goway has offices in Los Angeles, Vancouver, Toronto, and Sydney (Australia).
For reservations and information, visit http://www.goway.com, call your Travel Professional or 1-800-387-8850.