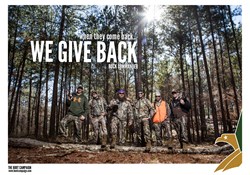 Austin, TX (PRWEB) August 19, 2013
Join Willie Robertson, current and former MLB superstars Adam LaRoche, Ryan Langerhans, Tombo Martin, and country music stars Luke Bryan and Jason Aldean in lacing up a pair of the Boot Campaign's signature combat boots to express gratitude for our nation's bravest defenders. Featured now on http://BootCampaign.com is the official Buck Commander boot photo. Throughout this week, a new official boot photo will be released daily on http://BootCampaign.com .
The Buck Commanders join a robust Hall of Fame of more than 350 actors, athletes, musicians and others who have taken part in the Boot Campaign's simple act of patriotism—lacing up a pair of combat boots. In fact, this isn't Willie's first time to fashion a pair of boots. He and his 'Duck Commanders' family debuted their Boot Campaign boot photo back in 2011.
As seen on the Outdoor Channel, "Buck Commander Protected by Under Armour" is as much about personality, brotherhood and humor as it is about amazing monster whitetail hunting. Viewers will enjoy the wild antics, pranks and spur-of-the-moment events of this Buck Commander group. It's a fascinating hybrid between compelling reality character-driven television and heart-pumping hunting action.
The Boot Campaign has provided more than $2 million dollars in direct assistance to wounded military personnel and their families. You can get involved by attending the 3rd Annual Boot Ride and Rally on August 25th in Los Angeles. More information visit http://BootRide.com .
About Boot Campaign
The Boot Campaign is a national 501c3 nonprofit that is dedicated to showing tangible appreciation of our active military, raising awareness of the challenges they face upon return and supporting their transition home. The Boot Campaign cultivates awareness, promotes patriotism, and provides assistance to military, past and present, and their families. Through the sale of its signature military combat boots, general public donations, and corporate sponsorship, the Boot Campaign operates five distinct initiatives -- Jobs, Housing, Wellness, Urgent Assistance and Family Support-- that are caring for military personnel healing from a variety of physical and emotional combat wounds, embodying the campaign motto that, "When They Come Back, We Give Back". http://www.BootCampaign.com