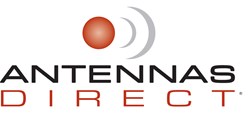 Through our forward-thinking approach and our innovative antenna designs, we have been able to go from building antennas out of my house to one of the fastest growing companies in the country
(PRWEB) August 20, 2013
As cable providers black out broadcast networks from coast to coast, Antennas Direct continues to experience exponential growth, landing the HDTV antenna company on the Inc. 500|5000 list for the sixth consecutive year. This honor places Antennas Direct in an elite class with such powerhouses as Microsoft, Timberland, Vizio, Zappos and Jamba Juice.
Antennas Direct, a St. Louis-based antenna company, has seen remarkable success each of the last six years due in part to the increasing popularity of over-the-air television. According to a study conducted by GfK Media and Entertainment, nearly 60 million Americans currently receive their programming exclusively through a television antenna. With over-the-air viewed as the future of television, big-box stores such as Best Buy, Walmart, Fry's and BJ's Wholesale carry Antennas Direct products.
"To be quite frank, our success doesn't come as a surprise to us," said Richard Schneider, founder and president of Antennas Direct. "Through our forward-thinking approach and our innovative antenna designs, we have been able to go from building antennas out of my house to one of the fastest growing companies in the country."
About Antennas Direct
Antennas Direct is the leader in antenna technology, reinventing the antenna for the digital era. With a heritage in over-the-air antennas specifically tuned for core DTV frequencies, Antennas Direct has invested major resources into the discovery and implementation of new antenna designs for digital reception. Founded in 2003, the firm is a member of the Inc. 500|5000 Hall of Fame and Future of TV Coalition. Visit antennasdirect.com for more information.