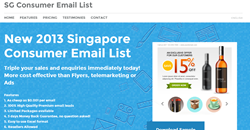 We are very pleased to offer our services to the Singapore area. We believe that consumers will value this product. Email lists are an effective way to generate leads, increase social contacts, and improve business growth
Singapore, Singapore (PRWEB) August 22, 2013
SG Consumer Email Lists.com announces its launch to provide consumers email marketing services in Singapore. The company offers affordable and highly competitive email lists and leads to third party vendors.
"We are very pleased to offer our services to the Singapore area. We believe that consumers will value this product. Email lists are an effective way to generate leads, increase social contacts, and improve business growth," said Mark Chen of SG Consumer Email Lists.com.
Bloggers, YouTube subscribers, and those interested in successfully attracting clientele will know that email lists are important to their success. "Building a credible subscriber list is necessary to drive traffic to a blog or website. We can help increase that traffic by directing our customers to their target market," said Chen.
The company supplies the most accurate data available on its Singapore email lists. Each email address is checked for accuracy, so consumers can trust that their content is getting into the hands of the recipient. "We know the importance of reliable leads, and we want our customers to have confidence in our product," said Chen.
SG Consumer Email Lists are affordable at only $0.001 an email list. The company understands that affordable products are important to its customers. They believe that by providing a cheaper email list, they can offer customers an inexpensive way to build relational growth, but not at the expense of quality.
"We understand how important a quality lead is, so we don't sacrifice a lead for the sake of cost. We want our customers to recognize our effort in providing them excellent marketing tools so that they continue to generate repeat customers as well," said Chen.
The company limits each list for sale to enhance the reliability and consistency of its product. They also offer a 3-day money back guarantee to ensure customer satisfaction.
About SG Consumer Email List
SC Consumer Email List.com provides marketing tools and services to the Singapore area. They supply affordable email lists for consumers as a successful way to generate valuable leads for relationship building, whether for a blog, website, or business. They can be reached from their website at http://sg-consumer-email-lists.com.