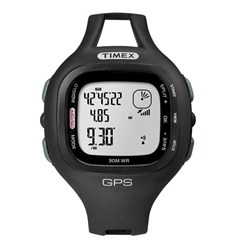 This watch is a rival for the Garmin Forerunner 10 and at $50 less it is really a great deal for runners, walkers and those who desire GPS speed and distance
Bozeman, MT (PRWEB) August 20, 2013
Timex Marathon GPS pacing watch has been dropped to $79 at the Heart Rate Watch Company making it the least expensive GPS pacing watch on the market.
"Timex Marathon will eventually be replaced by the new Timex Easy Trainer so we dropped the price by over 20%, so it is a great chance to get our best deal ever on a GPS pacing watch", says Rusty Squire, President of the Heart Rate Watch Company.
$50 LESS THAN GARMIN FORERUNNER 10
"This watch is a rival for the Garmin Forerunner 10 and at $50 less it is really a great deal for runners, walkers and those who desire GPS speed and distance", says Squire. He adds, "This is not a heart rate monitor, nor is the Forerunner 10, so neither watch has heart rate capabilities".
For those desiring more advanced running watches Squire suggests looking at the Timex Run Trainer 2.0 or the Garmin Forerunner 210. "Those are our two favorite GPS running watches for 2013", says Squire. He adds, "They add heart rate, interval training and more detailed metric data for those who are really serious about their training".
Timex Marathon offers real-time distance in miles, or kilometers and hundredths, along with pace in minutes per mile.
BATTERY LIFE
The watch lasts approximately 8 hours in GPS mode and comes with an accompanying charge and data transfer cord. "Like all GPS watches it uses a rechargeable lithium-ion battery", says Squire.
If you would like to talk to a real product expert to discuss your needs you can reach the Heart Rate Watch Company at 866-586-7129.