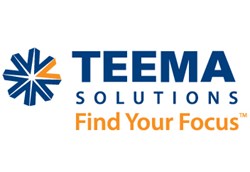 Irvine, CA (PRWEB) August 20, 2013
• #207 – Fastest Growing Companies in USA

#4 – Top 100 Human Resources Companies in USA
#39 – Top 100 California Companies
TEEMA joins elite alumni including Microsoft, Timberland, Vizio, Intuit, Jamba Juice and Oracle, who gained early exposure as members of the Inc. 500 | 5000.
Since its operations began in 2008, TEEMA has recorded significant revenue growth, while successfully demonstrating the advantages of their unique and innovative business model. TEEMA recently listed as one of the fastest growing staffing companies in Canada on the 2013 Branham List and by Profit Magazine in 2012.
"TEEMA Canada has received impressive recognition of its growth over the past two years, and we are extremely excited to see the same recognition for our US efforts," says Brian Antenbring, President and CEO of TEEMA. "The recognition of this Inc. 500|5000 ranking proves our business model and methods are a force to be reckoned with as we revolutionize the staffing industry."
The Inc. 500 | 5000 achievement adds to the ranking by Profit Magazine in 2012, which listed TEEMA 4th Top New Growth Company in Canada and the 2013 Branham300 listing which ranked TEEMA the #108 Top ICT Company in Canada.
The see the full results of the Inc. 500 | 5000, go to http://www.inc.com/inc5000/list/2013.
-30-
About TEEMA Solutions Group:
TEEMA Solutions Group Inc. (TEEMA) is a customized staffing and technology solutions firm dedicated to achieving targeted results, tailored to meet the individual needs of all clients and candidates. TEEMA Staffing Solutions offers personalized talent management services including talent placement, payroll outsourcing and vendor management. TEEMA Technology Solutions offers clients technology-certified Managed Services for system integration projects, as well as Practice Lead and Project Management services. TEEMA Staffing Solutions specializes in areas of Information Technology, Healthcare, Engineering, Sales and Marketing, Accounting and Finance, and Supply Chain Logistics, as well as Executive Search services for all industries.
For more information about TEEMA Solutions Group, please visit http://www.teemagroup.com .