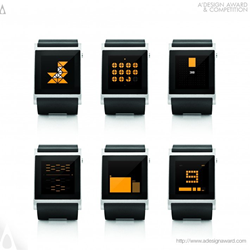 taly (PRWEB) August 22, 2013
Como, İ A' Design Award and Competitions are proud to see that the project Genuse by Albert Salamon won the renowned Golden A' Design Award at Interface and Interaction Design Competition selected as a winner by the transnational jurors of the A' Design Award & Competition amidst thousands of projects.
Concerning Genuse
Genuse Watch-faces are represented by Tritime, Fortime, Timegrid, Timinus, Timechart, Timenine series of clock applications specially invented for I'm Watch device. Apps are original, simple and aesthetic in design, from future ethnic through sci-fi style to digital business. All watch-faces graphics are available in 9 colors - fitting to the I'm Watch color collection.
To learn more and download high-resolution photos at, please visit: http://www.adesignaward.com/design.php?ID=27475 .
Project Members for Genuse
Genuse was imagined by Albert Salamon and Michal Zylinski.
The Golden A' Design Award
The Golden A' Design Award is a prestigious award given to top 3% percentile designs that has attained an exemplary level of greatness in design. The designs are judged by a panel of three different jury which is composed of Academic, Professional and Focus Group Members. The designs are evaluated with score normalization to remove any biases and are voted on aspects such as functionality, ergonomics, engineering, presentation, innovation, usability, fun details, technology, and any other specific points that could be considered, each of these points are further weighted for different jury groups.
About A' Design Award and Competitions
A' Design Award and Competitions, aims to highlight the excellent qualifications of best designs, design concepts and design oriented products. A' Design Award and Competitions are organized and awarded annually and internationally in multiple categories to reach a wide, design-oriented audience. Learn more: http://www.whatisadesignaward.com .