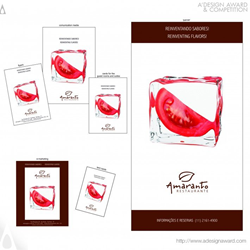 taly (PRWEB) August 27, 2013
Como, İ A' Design Award and Competitions are encouraged to announce that the design Amaranto Restaurant by Marcelo Lopes has been awarded with the notable Golden A' Design Award at Graphics and Visual Communication Design Competition elected as the winner by the transnational jury members of the A' Design Award & Competition amidst numerous designs.
More information on Amaranto Restaurant
This award winning project represents an institutional campaign for Amaranto restaurant in Brazil, Argentina and Chile. The design was inspired by the restaurant's cooking concept of mixing different types of food which actually result in a new flavors. The campaign, "Reinventing flavors!" was inspired by surrealism. Regular day-to day images transformed into surrealistic - each person's take on the image leads to the understanding of the sense of humor behind them.
To learn more about this design, please visit: http://www.adesignaward.com/design.php?ID=26762 .
Design Team for Amaranto Restaurant
Amaranto Restaurant was concieved by Marcelo Lopes and Ivan Bertasi.
The Golden A' Design Award
The Golden A' Design Award is a prestigious award given to top 3% percentile designs that has delivered an exemplary level of quality in design. The designs are judged by a panel of three different jury which is composed of Academic, Professional and Focus Group Members. The designs are evaluated with score normalization to remove any biases and are voted on aspects such as functionality, ergonomics, engineering, presentation, innovation, usability, fun details, technology, and any other specific points that could be considered, each of these points are further weighted for different jury groups.
About A' Design Award and Competition
A' Design Award and Competitions, aims to highlight the excellent qualifications of best designs, design concepts and design oriented products. A' Design Award and Competitions are organized and awarded annually and internationally in multiple categories to reach a wide, design-oriented audience. Learn more: http://www.whatisadesignaward.com .