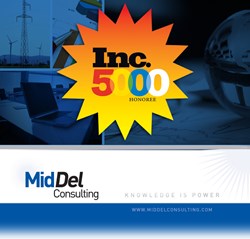 This achievement puts MidDel in rarefied company. This kind of accomplishment is truly worth celebrating.
Minneapolis, MN (PRWEB) August 22, 2013
MidDel Consulting has made the 2013 Inc. 5000 list of the fastest growing private companies in America. MidDel earned this prestigious ranking for their percentage of growth increase over the course of three years.
This is the second consecutive year MidDel Consulting has made Inc.'s list. In 2012 the company successfully made the 63% percentile for overall growth rate. "To have made the Inc. list for a second year running shows MidDel's commitment to the highest level of service and expertise in our field. Thanks to our clients and consultants, we continue to succeed and we could not be more pleased," said MidDel's Managing Partner, Scott Levin.
Inc.'s Editor in Chief, Eric Schurenberg, said, "This achievement puts MidDel in rarefied company. This elite group of companies has, over the years, included Microsoft, Timberland, Vizio, Intuit, Jamba Juice, Oracle, and Zappos.com. This kind of accomplishment is truly worth celebrating."
Businesses that appear in Inc.'s list join a prestigious ranking of America's fastest growing companies. They are invited to attend a conference and awards ceremony. This three-day event brings together the nation's brightest, most successful business minds to celebrate remarkable business achievements. The conference and award ceremony will be held October 10-12, 2013 in Washington, D.C.
"Our senior-level specialists diligently strive to maintain our best-of-the-best status," said Scott Levin. "Inc.'s recognition of our superior consulting talent honors all the challenging work we do."
About MidDel Consulting
Headquartered in Minneapolis, Minnesota, MidDel Consulting has been providing expert-level consultants for the Information Technology, Finance, and Energy sectors since 2005. MidDel Consulting specializes in supporting challenging projects by utilizing the best senior-level consulting talent from the United States and Canada. MidDel consultants understand your business and can assist in bridging functional and technical assets within your operations.
For more information call MidDel Consulting at (952) 500-9340 or visit our website http://www.middelconsulting.com or email us at info(at)middelconsulting(dot)com.