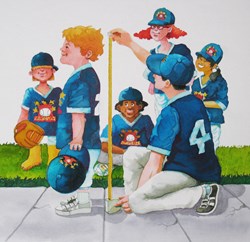 Parent, baseball coach, and author Kevin Christofora wrote a children's book about baseball, so that parents and coaches can teach kids about the sport—and the life lessons that come with it.
Woodstock, NY (PRWEB) August 23, 2013
Baseball is a fun, exciting sport and a great American pastime—but it also is an effective way to teach children strong morals, demonstrate the value of teamwork, and encourage healthy physical activity. Kevin Christofora knows this as a parent and coach and he has seen the inspiring results from youth's participation in the sport. He is the creator of The Woodstock All-Stars series and first book Nick's Very First Day of Baseball, aimed to promote reading time between parents and children and help kids turn off the television and get moving outdoors.
Here's what readers are saying about Nick's Very First Day of Baseball:
"Little League is more than baseball. It teaches character and builds leaders in our community. The Woodstock All-stars capture that essence."
"Children are made readers on the laps of their parents, the Woodstock All-star" series has created an opportunity for parents and their children to read together.
The Woodstock All-Star's Kickstarter campaign is encouraging parents, coaches, schools, bookstores, and libraries to get their copy of this promising new book. Supporters of the series can become team players by donating to the kickstarter campaign and get rewards—from a signed copy of Nick's Very First Day of Baseball to the upcoming books in the series.
"Kevin Christofora cares about kids and baseball like few others. His Woodstock All-Stars series reveal splendid character studies and moral purpose... and the essence of fun and teamwork." — Dave Kaplan, Director, Yogi Berra Museum & Learning Center