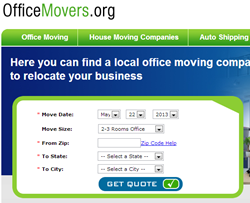 Ideally, all different offices require different moving services depending on the nature of the equipment. This explains why customers should get a mover who customizes the move according to their needs
(PRWEB) August 25, 2013
It really does not matter when or where one is relocating to, the truth of the matter is that one will have to move at one point or the other. Typically, an across-the-street move can be quite a challenge to the unseasoned mover and this gets even more challenging if you are moving to another city or country. Office relocation exercises are the most complicated of all. These are certainly not the conventional moves and particularly, they cost more. This is where this new service by ApartmentsMovers.com will come in to save a lot of agonies for a smooth and an affordable move.
Comparatively, office moves are more complicated than residential moves. Perhaps the reason here is that part of the company will be rendered redundant for some time, and this can imply significant effects in the long run. Maybe the reason could also be the delicate nature of the office equipment. Whatever the reason, ApartmentsMovers.com points out that any move must be timely because time means money in the corporate society. This explains why customers will need to engage a professional mover who can beat lean timelines, without compromising on the quality of the services.
According to this site, a credible office moving company is one that has all the important moving equipment. As mentioned earlier, office equipment is delicate and very valuable, from glass tables, priceless art collections, furniture, aquariums and more. It is for this reason that ApartmentsMovers encourages customers should be sure to engage a mover who possesses all the necessary equipment to handle different types of items for a safe move and delivery. It is encouraged to work with a company that provides packaging services especially for delicate items, even if this means paying a small fee.
Professionalism of an office moving company is important, as ApartmentsMovers.com supports. Ideally, all different offices require different moving services depending on the nature of the equipment. This explains why customers should get a mover who customizes the move according to their needs. Additionally, customers will want to work with a moving company that can respond promptly, given the urgent nature of office moves. With this understanding, this new service by the http://www.ApartmentsMovers.com has facilitated the process to find a credible mover in the shortest time possible.
The process of engaging an office mover is simple. This service will require potential movers to fill a certain form with different fields prompting important information such as the date, the address of the office to move, the address of the new location and so on. This brand-new service is aimed at making the relocation processes of the site's clients as foolproof as possible. Its database has a wide range of office movers who can deliver quality services.