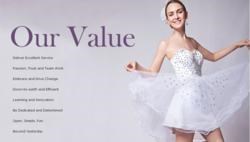 (PRWEB) August 22, 2013
DressyProm.com is a leading company that is devoted to manufacturing high quality trendy outfits for its clients worldwide. After four months' preparation, the company has recently launched its perfect Quinceanera dresses (http://www.dressyprom.com/Perfect-Quinceanera-Dresses).
DressyProm.com has been a leader in the industry for over 10 years, and continues to reaffirm the depth of its expertise with continuously released new designs. The company often provides a higher-level marketing strategy in which the customers can actually get the best shopping experience from the products and services it provide.
"We are very happy to introduce our newQuinceanera dresses to make them available to more customers worldwide," says, the CEO of the company said, "Our new outfits come in many different designs and colors, including floral patterns, tartan, stripes and more. Now, the promotion is valid until Sept. 21, 2013, and the discount is up to 59% off.
Moreover, DressyProm.com is offering its clients with a wide range of products from various designers, who mix figure-flattering silhouettes with unexpected details for standout designs.
About DressyProm.com
DressyProm.com is a distinguished wedding dress manufacturer and retailer, offering a wide range of wedding dresses, bridesmaid dresses, evening dresses, cocktail dresses, and more. The company aims to deliver ladies worldwide all kinds of dresses at acceptable prices.
More information can be found at: http://www.dressyprom.com.