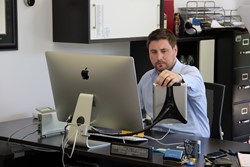 "Today we're not only celebrating our fourth year on the Inc. 5000 list - we're celebrating our winning team and our growth as a company." - Brenton Hayden
Minnetonka, MN (PRWEB) August 22, 2013
Ask Renters Warehouse CEO and founder Brenton Hayden about the housing crisis and he may very well reply, 'what crisis?' While Americans may not be in a rush to buy houses, the housing rental market itself is booming and it's the kind of boom that has led Hayden and his team to the top of this year's Inc. 5000 list for the fourth year in a row.
On Wednesday August 21st, 2013, Inc. Magazine released this year's list of the top 5000 fastest growing privately held companies in the United States; Renters Warehouse ranked #1047 nationally. Another victory for the Minnesota born team as a result of revenue growth of more than 400 percent over the last three years. As Gen Yers are simply refusing to buy and others are realizing the benefits of supplemental income as a result of income properties - there is no better time to be in the rental business than now.
Hayden, previously named the youngest franchisor in America by Inc. magazine in 2011, credits his team for the success and exponential growth of the company. "In the last three years we went from a team of 12, to a team of 78," says Hayden. "Today we're not only celebrating our fourth year on the Inc. 5000 list - we're celebrating our winning team and our growth as a company."
In addition to the national level, Renters Warehouse also placed #34 of all real estate companies as well as #19 of all Minnesota companies, an accomplishment that's close to home. While the company has franchises in seven states, Minnesota is home to Hayden and the company's headquarters. "I'm ecstatic and extremely proud of our local success and the positive effect we've made on our community and our local economy," says Hayden. "I look forward to the impact we can make, moving forward, on America."
The company, originally founded in 2007, are dedicated to their goal of staying on the Inc. 5000 list for a fifth year in a row next year and joining the Honor Roll; an elite group of companies who ranked for five consecutive years.