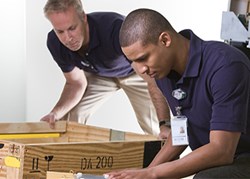 (PRWEB) August 23, 2013
Dunlee is excited to announce the arrival of the Dunlee Academy, a virtual resource guide full of helpful information for professionals in the imaging service industry. The Dunlee Academy is a new and improved product, which stemmed from the popular Tube Service Assistant (TSA). Dunlee updated the TSA with more user-friendly navigation and plans to add more than just tube support to the product. Currently the Dunlee Academy features step-by-step installation guides for Dunlee's most popular products, the DA 200 and Reevo 240G. Stay tuned to Dunlee's social media pages and website to be the first to hear about new additions to the Academy.
To view the Dunlee Academy, visit http://www.academy.dunlee.com .