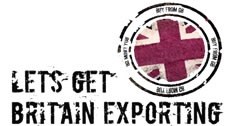 without any international retailers the carrier costs double the price of a tub, making it unaffordable even as a luxury laundry product. We had 189 enquiries in our first weekend alone from Global prospects interested in having a tub of Distinctive
London, Northamptonshire, Warwickshire, Rugby, Northampton (PRWEB UK) 25 August 2013
As a new start up company, Distinctive Wash realises the importance of exposure and publicity getting the brand name out to the right people to attract sales, both in terms of direct sales and distributors, so Louise was delighted to be told that her company had been selected for feature.
BuyfromGB.com is a new way for British manufacturers and companies selling items made in Britain to advertise their products to interested home and foreign buyers through their new online directory. They are offering a free listing to any company that products qualify as made in Britain and their aim is to become the hub of all things made in Britain.
Distinctivewash has been receiving considerable worldwide attention since it launched, with a risqué You Tube video featuring Kelly Hall as the house sitter. Kelly discovers Distinctive washing powder for men, having spilt orange juice down herself and removing her clothes to launder them with the chaps own laundry - who's property she is looking after. The video went viral with over 7.5 million hits in ' months and was even picked up by American TV. However, converting that interest to sales via mail order worldwide has been a challenge. Louise explains that "without any international retailers the carrier costs double the price of a tub, making it unaffordable even as a luxury laundry product. We had 189 enquiries in our first weekend alone from Global prospects interested in having a tub of Distinctive and looking for stockists. Thankfully some of our international customers still bought regardless of delivery costs and have been buying ever since but we could never hope to grow the business worldwide via a mail order model from the UK."
Louise goes on to admit that "the ideal scenario would have been to organically grow the business in the UK and then look to the export market, this also being the advice from UK Trade and Industry". But with enquiries coming in thanks to the brand awareness, Louise is determined to continue to look at opportunities both at home and abroad. She feels as a small company they are flexible enough to be able to change their business model, "our analytics tell us that two thirds of our website visits are from overseas, that can't be ignored and has to be developed further. This is backed up by the high proportion of web traffic heading to our stockist page and the number of email enquiries asking about foreign retailers, more evidence that the overseas market just can't be ignored."
An outlet in Germany was established in July when DMAX launched its e-shop to compliment its television channel and it selected the brand as one of its launch products and Louise is looking for similar opportunities globally to help serve her customers better.
Although BuyfromGB is relatively new she is confident that promotion via organisations representing British manufacturers is going to be a huge help to British brands such as Distinctive. Louise is a firm believer that there is a global passion for made in Britain and it should not be underestimated. Her company has been receiving enquiries from global fashion wholesalers and menswear designers as far away as Shanghai and they look to the UK for assurance of quality.
It would seem that Distinctive Wash is a small business with big ideas and is on the lookout for business partnerships and trading opportunities both here and abroad, let's hope this company continues to grow and inspire others and with BuyfromGB support helping UK businesses. Working together companies can all help to increase Britain's export market by spreading the made in Britain flag.