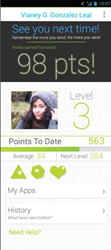 Chattanooga, TN (PRWEB) August 23, 2013
FwdHealth is proud to announce the release of its mobile application for the Android platform. The FwdHealth team has been working diligently to develop next generation technology to improve the lives of people by building a bridge between individuals' healthy habits and their healthcare team. The choice to begin development on Android was clear for the development staff due to the open-source nature of the platform. FwdHealth's Lead Developer, Jon Stanford, also Lead Developer for the Android Open Kang Project, said, "Having the ability see what the underlying code is doing behind the scenes makes for quicker development and expansion of the product, and ultimately provides a much more stable platform for our users."
The FwdHealth mobile app aggregates cost-saving lifestyle data from devices and apps and empowers individuals to easily share it with their healthcare team: employers, insurers, and care providers such as doctors, nurses, health coaches, and personal trainers. Users simply sync the FwdHealth app with any FwdHealth-compatible apps and devices, and then they are ready to share their healthy habits with their care team, which can track their progress and reward them for the healthy choices they make every day.
Currently the app is available for free download in the Google Play® app store. Interested users can download the app here. FwdHealth's iOS application is currently under construction and will be available in the Apple App Store® soon.
FwdHealth is a Chattanooga-based startup aiming to revolutionize the way people think about wellness and provide mobile tools to improve the way they manage it. For more information on FwdHealth, visit http://www.fwdhealth.co and subscribe to its social media channels.