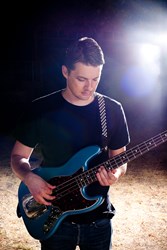 Petaluma, CA (PRWEB) August 27, 2013
Renowned instrument case and gig bag maker Reunion Blues officially welcomes bassist Nate Light to its growing family of artists. As a professional acoustic upright and electric bass player, Nate is noted for his adaptability, and cross-genre talent. From orchestra, to big band to punk, Nate demonstrates exceptional skill.
Nate Light is currently the bassist for 222 Records recording artist and actor Matthew Morrison, known for his broadway performances, movie and television roles, including appearances in Law & Order, CSI: Miami, Sex and the City, and Glee among many others. In addition, Nate Light also performs regularly with Will & Grace actress Megan Mullally's band Nancy & Beth, and is a member of the multi-platinum record producer JR Rotem's live band The JR Rotem Trio. JR Rotem is noted for his work with numerous top acts, including Sean Kingston, 50 Cent, Britney Spears and Rihanna.
With his distinct talent and extensive experience working with high profile musicians, actors and producers, Reunion Blues is pleased to welcome Nate Light, and show our ongoing support for the arts.
For more information, please visit us at http://www.reunionblues.com .
Founded in 1976, Reunion Blues is the music industry's premier gig bag and case company. Reunion Blues offers an extensive product selection including over 100 models of cases and bags for fretted, brass, woodwind, strings and percussion instruments.
Reunion Blues is dedicated to maintaining exceptional quality, and is committed to product innovation, superior design and distinguished style.