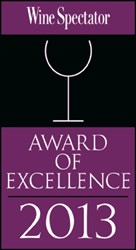 It represents a significant milepost on our journey toward becoming a premier destination restaurant for national travelers to Lake Havasu City, Arizona
Lake Havasu City, Arizona (PRWEB) August 24, 2013
Shugrue's Restaurant and Brewery Group is recipient of a 2013 Wine Spectator Award of Excellence. The award was announced on the international magazine's web site and will be in its recent 2013 issue that hits newsstands mid summer 2013. The awards recognize restaurants whose wine lists offer interesting selections, are appropriate to their cuisine and appeal to a wide range of wine lovers. "Winning a Wine Spectator award is an annual goal for Shugrue's Restaurant and Brewery Group. "It represents a significant milepost on our journey toward becoming a premier destination restaurant for national travelers to Lake Havasu City, Arizona" – states General Manager Tammy Gosselin.
Shugrue's wine list is noted for its selection of award-winning wines. In addition, Shugrue's features a well-edited selection of wines, offering different grape varietals and styles, and providing wines to suit most tastes and palates.
About award recipient: Shugrue's Restaurant and Brewery Group is the signature restaurant of the world famous Bridgewater channel in Lake Havasu City, Arizona. It is a destination restaurant that embodies its city's unique culture, history and spirit. Information in regards to dinner menu, wine list, upcoming events, and reservations are available at shugrues.com or by calling 928-453-1400.