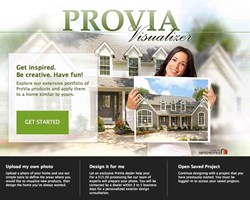 ProVia's Visualizer takes the guesswork out of selecting home renovation products, so homeowners can choose with confidence.
Sugarcreek, OH (PRWEB) August 26, 2013
ProVia® today unveiled the new ProVia Visualizer, an online tool that homeowners and dealers can use to preview ProVia products on sample images or on their own house photos. The Visualizer is free to use and enables selection and viewing of ProVia's exterior home renovation products, including entry doors, replacement windows, vinyl siding, insulated siding, cedar shake siding, board and batten siding and manufactured stone.
Key Features of the ProVia Visualizer
The new system improves upon a prior version with additional product choices for home windows, double hung windows, slider windows, casement windows, picture windows, and storm doors. Other features include:

Open access at no charge to anyone, without typical barriers like forms or registrations
Enhanced functionality to view ProVia products on the Visualizer's sample images or uploaded house photos
Increased options enabling homeowners to create their own aesthetic, with a wide variety of styles, colors and hardware
Improved, easy-to-use interface
"The new ProVia Visualizer sets a new standard in the industry," says Joe Klink, ProVia's director of corporate relations. "By providing open access to tools that take the guesswork out of the product selection process, homeowners can choose with confidence, and may even get some inspirations they weren't expecting."
Check out the new Visualizer at http://www.proviaproducts.com/design-it/.
# # #
About ProVia®
Headquartered in Sugarcreek, Ohio, ProVia is a leading manufacturer of professional-class entry doors, storm doors, patio doors, windows, vinyl siding and manufactured stone. The professional-class designation reflects the company's high level of quality, service and customization. ProVia has been an ENERGY STAR® Partner with the Environmental Protection Agency and the U.S. Department of Energy since 2002, and has won the prestigious ENERGY STAR Partner of the Year award for Door Manufacturing four times, and the ENERGY STAR Sustained Excellence award three times. The company employs approximately 500 people at its headquarters and manufacturing facilities in Sugarcreek, Walnut Creek, Baltic and Zanesville, Ohio, and Booneville, Miss. For more information, visit http://www.proviaproducts.com.
Media contact: Joe Klink, Director of Corporate Relations, ProVia, 330-852-1674, Joe.Klink(a)proviaproducts.com