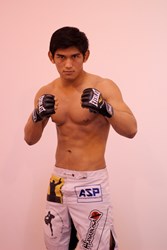 "Tomorrow morning I will be back in the gym working hard and training hard."

- Aungla NSang
Baltimore, MD (PRWEB) August 23, 2013
Aung La "The Burmese Python" N Sang, of Crazy 88 Brazilian Jiu-Jitsu, took a win against Shedrick Goodridge at CFFC 26 on August 17 in Atlantic City, New Jersey.
Cage Fury Fighting Championships (CFFC) is an east coast based mixed martial arts promotion. It is a platform for rising professional MMA talent to become noticed and scouted for larger promotions. Some other fighters have already fought in promotions such as Bellator and others go on to the Ultimate Fighting Championships (UFC).
NSang, originally from Myanmar, now resides in Elkridge MD and competes in the Welterweight division, for athletes weighing less than 170 lbs.
Fighting as the seventh fight of the night, N Sang faced off against Shedrick Goodridge of Team Bomb Squad. The fighters made it through the first round with the show stopping in the second. At 1:44 in the second round Aung La sunk in a deep rear naked choke for a win by submission.
After his win N Sang commented, "It was a good fight and another great event by CFFC. Tomorrow morning I will be back in the gym working hard and training hard. There are no breaks. It's just back to the training grind."
For more information about Crazy 88 - Elkridge visit http://www.BaltimoreMixedMartialArts.com or call (443) 283-1450. To learn more about Crazy 88 - Owings Mills visit http://www.Baltimore-MMA.com or call (410) 999-1064.