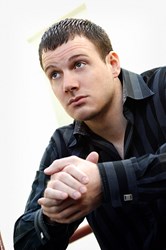 Bradley's promo, entitled "He's Back," excites fans' nostalgia with its quirky play on the "return of the dawg pound."
Los Angeles, CA (PRWEB) August 26, 2013
Filmmaker Robert L. Bradley IV created the CBS television promo that started the search for Arsenio Hall's biggest fans. Now thru August 28, 2013, fans have a shot to win a trip to Los Angeles, complete with VIP tickets and backstage access to a live taping of "The Arsenio Hall Show," scheduled to premiere September 9, 2013 on CBS. To enter the contest, Arsenio calls on fans to make their own short films promoting the show, using Bradley's bit for inspiration.
"When I heard Arsenio Hall was making a return to late night, I knew immediately that I wanted to create a comedic short to promote it," says Bradley. "However, I had no clue my idea would motivate Arsenio and the network to create an entire contest. I am incredibly honored to be a part of it and hope at the very least, it will elicit some laughs from fans."
Bradley's promo, entitled "He's Back," excites fans' nostalgia with its quirky play on the "return of the dawg pound." After presenting the piece to Arsenio Hall, who relayed the short to CBS, they immediately began development on the new contest to find the late night legend's biggest fans.
"Bradley's video made me smile, and I appreciated the effort," says Arsenio Hall. "I had to do something with it."
For more information on how to submit to the Arsenio Hall SuperFan contest or to view Robert L. Bradley IV's video, please visit http://www.arseniohall.com/superfan/index.html .
To find more from Robert L. Bradley IV, please visit http://givproductions.com/ .
To set up an interview and/or media inquiries, contact Teesha Murphy at Teesha(at)TheEasyWriters(dot)com.