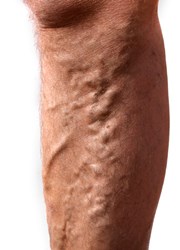 Many people consider varicose veins and spider veins to be merely a cosmetic problem, and for this reason they put off seeing a spider vein specialist or a varicose vein specialist
Nashville, TN (PRWEB) August 25, 2013
The Siragusa Vein and Vascular Center in Nashville, Tennessee has launched a new public health campaign to educate the public about the dangers of advanced venous disease. Advanced venous disease is a serious condition that can result when varicose veins are left untreated, the vein center says. The center aims to help patients reduce their risk of dangerous complications.
"Many people consider varicose veins and spider veins to be merely a cosmetic problem, and for this reason they put off seeing a spider vein specialist or a varicose vein specialist," says Dr. Tif Siragusa, MD, Director of Siragusa Vein and Vascular. "However, varicose veins and spider veins are a symptom of venous disease and, if left untreated, some serious consequences can arise."
The symptoms of advanced venous disease include swelling, pain, and skin ulcers, which can be painful and difficult to treat. Deep vein thrombosis, or blot clots, are another threat. Blood clots in the legs can break free and become deadly embolisms if not found and treated quickly.
Effective, minimally invasive treatments are available. Throughout the month of July, Dr. Siragusa and the team at Siragusa Vein and Vascular will be using Facebook and Twitter as part of the campaign to help the public take steps to prevent and treat advanced venous disease.
For more information, visit:
http://www.nashvilleveincenter.com/
About the Siragusa Vein and Vascular Center
The Siragusa Vein and Vascular Center is nationally recognized in venous therapies and comes highly recommended by many physicians. Dr. Siragusa, Director of the center, provides a personal, individualized approach to each patient based on their history of vascular problems, physical exam findings, as well as the detailed information gained by their Duplex Ultrasound.
Siragusa Vein and Vascular Center's minimally invasive techniques eliminate the down time associated with surgical procedures of the past. Most patients drive themselves to the office and back home after treatments, avoiding the inconvenience of disrupting the schedules of family or friends. Moms can get back to taking care of the kids that day and most people are back to work the next day. As a specialist in vein treatment and vascular surgery, Dr. Siragusa also excels in the evaluation and treatment of other conditions including Carotid Artery Stenosis, Abdominal Aortic Aneurysms, Peripheral Vascular Disease, and Deep Vein Thrombosis.