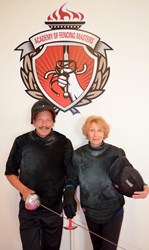 They truly have a passion for fencing and embody the AFM mission statement.
Campbell, CA (PRWEB) August 26, 2013
Academy of Fencing Masters has hired internationally renowned fencing coaches, Alexandr and Natasha Maximovich, to lead their coaching team. Both Alexandr and Natasha have coached for the USSR and Kazakhstan National teams, producing national and international champions.
"We are so excited to have them on board," exclaimed owner Irina Chirashnya. "I have known both of them for several years and know that they truly have a passion for fencing and embody the AFM mission statement."
Alexandr Maximovich, a veteran coach with over 35 years of experience, has instructed Olympic gold medalists, world champions, and national champions. He has also been honored in Kazakhstan as the "National Honored Coach" in 1984 and received a prestigious and coveted award, "National Excellence in Sports and Physical Culture Award," from the former USSR in 1991. As stated by Sergei Golubitsky, one of the greatest fencers of the 20th century, "Alexandr is an honest person and a true professional, who loves fencing, and dedicates himself to this great sport."
Coach Alexandr is a master fencer in his own right, having mastered all three-weapon styles. "Alexandr Maximovich is without a doubt the most interesting man I have ever encountered. He was less a teacher than a master," said student Dylan Black. Black went on to explain that Alexandr is more than just a fencing instructor. "His teaching is not limited to fencing. Every now and then he stops and begins speaking about life lessons." Black added, "If I grow up to be half of the man he is, I will truly die a happy man."
Natasha Maximovich, a three-time Kazakhstan national foil champion, has trained and coached over 1000 athletes, including World Cup competitors and Olympians. "Much of my success as a fencer can be attributed to Natasha's dedication to develop each of her students into the best fencers they can be," said Jerry Cheng, a member of the Gold Medaling Junior World Champion Team and a long time student of Coach Natasha.
Coach Natasha is also a world-renowned developer of competitive coaches, having trained over 250 active fencing coaches throughout the world. This adds to her ability to develop and inform future fencing champions. Cheng is very grateful for Natasha's support throughout his fencing career and believes that she will be a great asset to future students, "I'm confident Natasha will do a great job training the next generation of fencers."
Academy of Fencing Masters is proud to have two of the finest fencing coaches working to help students strive towards becoming elite fencers and successful individuals. Coach Alexandr will teach foil and epee, and Coach Natasha will teach foil.
Families or fencers interested in working with Coach Alexandr or Natasha should contact Academy of Fencing Masters or email Irina Chirashnya at irina(at)AcademyOfFencingMasters(dot)com.
About Academy of Fencing Masters (AFM):
Academy of Fencing Masters seeks to develop all level of fencers, from beginners to Olympic athletes, through elite coaches, state-of-the-art facilities, and supportive community for both the fencer and family. AFM prepares athletes for fencing and for life.