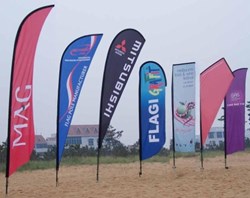 (PRWEB) August 25, 2013
CKFlag.com, a well-known China manufacturer of feather flags, has recently announced all its custom feather flags for sale, and these flags are offered with great discounts, up to 40% off, before Sept. 15, 2013.
All the feather flags from CKFlag.com are made with dedicated craftsmanship. They are digitally printed which results in excellent color matching and rich color contrasts, showing your faith and your love of the business.
"We are happy to launch the promotion, and make more people to know our quality flags. We offer flags and teardrop flags with the highest standard. These flags are specially designed for the summer 2013," says, the CEO of CKFlag.com.
A customer from the USA said, "Today, with more storms, we are trying everything we can to protect the resident and visitors with some custom feather flags. CK Flag is a great designer and manufacturer; the company knows exactly what we need. Thank you!"
About CKFlag
Founded in 1995, CKFlag is a professional flag manufacturer from China, offering a full range of high-quality, low-price flag products and services. Its customers come from many countries all over the world. The company aims to offer its customers more choices with affordable prices, and they accept customer's own designs as well.
For more information, please visit: http://www.ckflag.com/