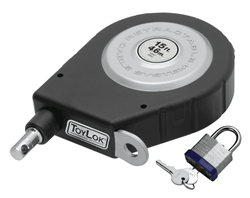 'Every RV and trailer owner has a need to secure certain items when they are away from the site,' added Murray. 'ToyLok is a product that makes this process – and thus the camping experience – a little easier!'
Elkhart, IN (PRWEB) August 27, 2013
Lippert Components, Inc. (LCI™) announces it has acquired the rights to manufacture, distribute and sell ToyLok® products to the RV, cargo, utility, horse/livestock and marine trailer industries from Peak Recreational Products.
"We're very excited to be able to offer the ToyLok product to all of our customers in the RV and trailer markets," said LCI Vice President of Sales Andy Murray.
ToyLok is a patented tamper-resistant retractable cable lock that can be permanently mounted to any RV or trailer chassis. ToyLok allows customers to easily secure valuable personal property outside an RV or trailer by simply extending the self-retracting cable, looping it through valuables and locking it with the specialty padlock. ToyLok features a strong, 15-foot PVC-coated nylon cable that guards personal items from abrasion damage; an internal pulley and braking system that allows users to choose optimal cable length; and a built-in clutch to prevent cable snap-back when retracting.
"Every RV and trailer owner has a need to secure certain items when they are away from the site," added Murray. "ToyLok is a product that makes this process – and thus the camping experience – a little easier."
About Lippert Components™:
Lippert Components, Inc. (LCI™) and Kinro, Inc., its sister company, subsidiaries of Drew Industries Incorporated (NYSE:DW), are industry leaders in a broad line of products dedicated to improving the mobile lifestyle. LCI and Kinro supply a broad array of components for RVs, manufactured homes, modular housing, truck caps and buses, as well as for trailers used to haul boats, livestock, equipment and other cargo, including chassis, fabricated steel chassis parts, slide-out mechanisms, axles, upholstered furniture, mattresses, windows, doors, leveling and stabilization equipment, suspension enhancement products, electronics, thermo-formed products, awnings and aluminum extrusion products.
Lippert Components, Inc.
3501 County Road 6 East
Elkhart, IN 46514
574-535-1125