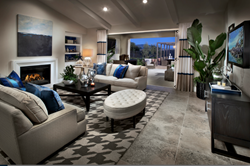 San Diego,CA (PRWEB) August 26, 2013
When designing its recently-debuted Sentinels neighborhood at Del Sur in San Diego, Brookfield paid close attention to gathering and entertaining spaces. Today, two months after the grand opening, shoppers have responded favorably to the builder's open, family-centric design.
"Brookfield Sentinels is a neighborhood of distinction," said Rocky Tracy, VP of Sales for Brookfield Residential. "The floor plans are sprawling, welcoming parents, grandchildren and extended family and friends to enjoy the peaceful homes."
Among the three floor plans available at Brookfield Sentinels is Residence 2. The three-bedroom, 3.5- to 4.5-bath home is 3,219 square feet and designed to accommodate multi-generational living. The home offers a downstairs master bedroom, bath and walk-in closet, with immediate access to the backyard. An optional casita with bath welcomes live-in relatives or visiting family and friends.
At the center of the home is the kitchen, seamlessly flowing into the great room, then beyond to the covered outdoor Del Sur Room where barbeques, and outdoor movie and wine nights could be held. Off of the dining room is a private courtyard for added outdoor leisure.
"The beauty of this floor plan is that it has great, open space for gathering," added Tracy. "At the same time, there are cozy spaces-- like the downstairs master bedroom, upstairs loft, and private optional casita-- for people to retreat to after the dishes are dry… We know why people like this floor plan."
Homes at Brookfield Sentinels are priced from the $900,000. The neighborhood of new, luxury-inspired homes is located at the award-winning Del Sur community in San Diego. Del Sur is home to six parks, five solar-heated pools, 18 miles of connected hiking trails, and three top-performing Poway Unified School District Schools including Del Sur Elementary School, Oak Valley Middle School and Del Norte High School. Coming soon to the community is Poway Unified's Design 39 Campus, which will serve students in grades K-8.
For more information about Brookfield Sentinels' Residence 2 design at Del Sur, please call 888-556-2453 or visit http://www.BrookfieldSoCal.com.
About Brookfield Residential
Brookfield Residential San Diego is a premier lifestyle provider comprised of a dedicated, knowledgeable team of professionals with the passion and experience to craft exceptional new homes, neighborhoods and communities. From the goals of first time buyers to the prestige of luxury homes, we are proud to offer opportunities that embrace a diversity of aspirations. Respected as an award-winning innovator, we are recognized for delivering consistent quality, design details and an outstanding customer experience. Please visit http://www.BrookfieldSoCal.com for more information.
Brookfield Residential Properties (BRP) is a leading North American land developer and home builder, with operations in eleven major markets, committed to creating the best places to call home. BRP benefits from strong geographic diversification with operations in Austin, Calgary, Edmonton, Denver, Phoenix, Los Angeles, Sacramento, San Diego, San Francisco, Toronto and Washington, D.C. Brookfield Residential Properties is listed on the NYSE and TSX under the symbol BRP.