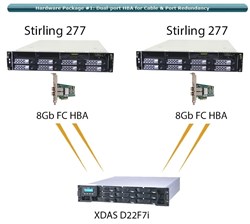 Santa Fe Springs, California (PRWEB) August 27, 2013
Aberdeen LLC, a leading manufacturer of servers and storage, releases their complete VDI (Virtual Desktop Infrastructure) solution with all the software and hardware needed to deploy VDI in a single package. With their easy to use online configurator, you can receive a quote on a custom VDI solution in minutes. Aberdeen makes it easy for any business to make the switch to virtual workplaces, with the ability to receive a quick quote solution for 60-300 virtual desktops. The bundles consist of pre-sized and pre-configured Aberdeen servers and storage to meet the need of the exact number of virtual desktops required, without demanding lengthy technical consulting cycles. Aberdeen's VDI solutions come complete with Server, Storage, and Software Licensing to revolutionize your network infrastructure and begin immediate integration. The full VDI solution is VMware certified, and storage is also VAAI certified.
Aberdeen will be featuring their complete VDI solution at VMworld in San Francisco, August 25th through August 29th. Stop by Aberdeen's booth #2434 to see the servers and storage included in the VDI solution, and receive a quote for your VDI configuration presented to you on the spot.
http://www.aberdeeninc.com/abcatg/vmware-bundle.htm
http://iceberg.aberdeeninc.com/ServConf/ServerConfig.aspx?id=11
About Aberdeen:
Aberdeen LLC is a leading manufacturer of servers and storage. Delivering exceptional performance, unparalleled reliability and outstanding value, Aberdeen's award winning products are deployed every day by IT departments in many of the world's largest organizations. More information about Aberdeen is available at http://www.aberdeeninc.com. Day to day announcements from Aberdeen can be found on Twitter: @aberdeenllc
Contact:
562-903-1500
http://www.aberdeeninc.com