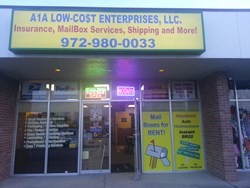 Richardson, TX (PRWEB) August 26, 2013
The Mail Box Stores, Inc. today announces the opening of A1A Low-Cost Enterprises, a full service postal and business center locally owned and operated by Robert and Dorothy Peshoff of Richardson, Texas.
A1A Low-Cost Enterprises is located at 205 W Main St and US-75N - across the street from the Chase Bank tower. They offer more than 25 shipping, postal and business related services and a wide range of related retail products and gift items, including shipping, packaging, full color copies, notary service, secure shredding, key duplication, passport and ID photos, computer time rentals, internet access, business cards and letterhead, mailbox rentals, and more.
In addition to all their services, A1A Low-Cost Enterprises carries shipping supplies, corrugated boxes, packaging supplies, bubble wrap, tape, loose fill, shipping labels, cushioned mailers, decorated boxes and a line of office products. They offer personalized friendly service and convenient parking from 8:30am to 6pm Monday through Friday and 9am to 6pm Saturdays.
The Peshoffs contracted with The Mail Box Stores (MBS, http://www.themailboxstores.com) to develop A1A Low-Cost Enterprises. Along with its parent company, MBS is North America's largest discount retail store developer. They have assisted over 3,000 independent business owners since 1995 in establishing their own stores. MBS provides a complete turnkey business opportunity, including funding, site and lease acquisition, fixtures, merchandise, all labor, training, and a no-cost long term support program. According to Theresa Whitley, the company's General Manager, "Robert and Dorothy were involved in every stage of the process regarding their store's development, from choosing the location and merchandise, to undergoing extensive training. Their hard work and dedication will make A1A Low-Cost Enterprises a wonderful addition to Richardson—we wish them the greatest success!"