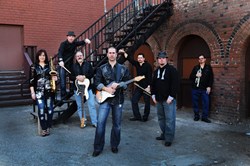 It's so great to get to play locally where our students, family, and friends can see what we really do!
Corona, CA (PRWEB) August 28, 2013
Griff Hamlin and The Circle City Horns, featuring trumpet player Mike Gaughan – Centennial High School's Director of Bands, and saxophonist Laura Hamlin – CNUSD's 2010 Teacher of the Year, will be headlining Corona's own Marquee 15 concert venue on Saturday, August 31. In fact, 4 of the 7 band members have close ties to the Corona community and are thrilled to perform in their hometown.
Husband and wife team Griff and Laura Hamlin formed this 7-piece, powerhouse blues band 3 years ago when they decided to combine their talents and share their passion with as many people as possible. "We've just come back from playing the main stage at the Allen City Blues Festival in Allen, Texas this past July," said Griff. "It's amazing playing alongside great artists like Eric Johnson, Wanda King, and Billy Cox, but there's still nothing like a hometown crowd."
Laura added, "We so rarely get to play locally where our students, friends and family can come out and see what we do. On top of that, it's an all-ages show, so everyone is welcome!"
Over the years, Griff Hamlin and The Circle City Horns has performed for summer concert series events and made many appearances at other music venues and clubs in the SoCal area. Since March of 2013, the band has been a regular fixture on the Downtown Disney stage, which has provided a "fantastic opportunity to keep the band tight and share our music with hundreds of people each time we perform."
Griff also teaches guitar privately in Corona and online through his Blues Guitar Unleashed (http://bluesguitarunleashed.com) website. His "Blues Guitar Unleashed Live!" event each spring draws blues guitar enthusiasts from all corners of the world and supports the Kids Rock Free program in Corona.
Doors open at 7:00 on Saturday, August 31st at Marquee 15. General admission and reserved seating is available. For more information, or to purchase tickets, visit http://m15concerts.com/events/griff-hamilin/. For more information on Griff Hamlin and The Circle City Horns, visit http://griffhamlin.com or http://facebook.com/griffhamlinandthecirclecityhorns.