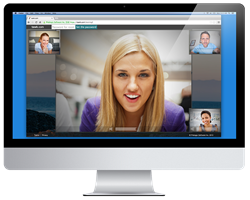 When large corporations use WebRTC they'll want to deploy from their own on premise or private secure servers.
(PRWEB) August 27, 2013
Priologic Software Inc., a WebRTC product and services organization, today announced it will showcase the latest version of EasyRTC Enterprise this week at IT Expo. This award-winning technology stack and toolkit enables developers with little knowledge of WebRTC code to quickly code and deploy customized WebRTC-based applications for their organizations.
EasyRTC won the Best WebRTC Tools award at the inaugural WebRTC Conference and Expo in November 2012 and it won the WebRTC Conference Editor's Choice award in June 2013.
At IT Expo this week, Priologic will showcase a live demo of the latest release of Tawk.com—a WebRTC consumer application that provides source code to accelerate the development of customized WebRTC enterprise applications. WebRTC development experts from Priologic will also demonstrate Tawk.com working on iOS. Priologic was awarded the WebRTC Conference Editor's Choice award for Tawk.com earlier this year.
Doug Pelton, CEO at Priologic, commented, "EasyRTC provides an easy-to-use client side API that reduces the impact of changes in the WebRTC API, so developers can focus on getting their application built with simple code and graphics changes. They don't need to be WebRTC coding experts."
EasyRTC enables developers to get their WebRTC enterprise application running quickly and easily using Platform-as-a-Service for development. Once development is complete it can be easily transferred to an on premise server for production. This option is particularly important for organizations that need high security and want complete control over their communications and data interfaces.
This full featured developer's technology stack and toolkit includes:

Tested WebRTC code and application source code
Browser to browser encryption
Support for iOS and Android devices
Support for Chrome and Firefox browsers
Application code to enable developers to easily re-skin the interface and brand it to look like their own communications interface
"With all of our WebRTC source code and the Tawk.com application code, EasyRTC can offer at least a two quarter development time head start on enterprise WebRTC projects, saving organizations development time and resources," added Pelton.
EasyRTC Enterprise and Tawk.com will be demonstrated live by WebRTC experts in the Priologic booth #333 this week at IT Expo.
About Priologic
Priologic Software Inc., was founded in 2003 and is headquartered in Victoria, B.C., Canada, provides dedicated enterprise software teams to large enterprises, and offers a technology stack, developer toolkit, sample code and development services for WebRTC projects. Read more about Priologic at Priologic.com.
About EasyRTC Enterprise
EasyRTC Enterprise can be deployed as Platform-as-a-Service (PaaS) or licensed as an on-premise solution. It allows developers who are unfamiliar with WebRTC code, to quickly and easily develop and deploy customized WebRTC projects. Tawk.com provides working and tested application code to developers to kick start custom WebRTC application development projects.