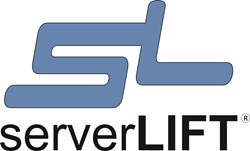 "We are extremely proud of our accomplishments over the last few years," said Jake Iskhakov, Director of Sales & Marketing. "We have plans for accelerated growth next year, with the introduction of new products and strategic partnerships."
(PRWEB) August 27, 2013
ServerLIFT Corporation has earned the distinct pleasure of joining the Inc. 500 | 5000 fastest growing private companies in America for the second year in a row. The company experienced 240% three-year growth, moving up from 85th to 39th overall in the manufacturing category.
ServerLIFT quarterly sales surpassed expectations in 2012, which attributed to another record high year. The company's growth expanded into international markets, with distributors in 5 major markets and clients in 43 countries around the world. Along with a long list of clients in diverse industries such as technology, financial, entertainment, healthcare, government and education, over 50% of the fortune 100 currently benefit from ServerLIFT solutions in their data centers.
"We are extremely proud of our accomplishments over the last few years," said Jake Iskhakov, Director of Sales & Marketing. "We have plans for accelerated growth next year, with the introduction of new products and strategic partnerships."
ServerLIFT introduced a new generation of server handling solutions in 2012, the popular SL-500X Powered ServerLIFT and the SL-350X Manual ServerLIFT. This year, the company has already released 1000 lbs. rated unit, the SL-1000X Super Duty ServerLIFT, and plans to release two additional products before the end of 2013.
About ServerLIFT Corporation
ServerLIFT Corporation was founded in 2002 in response to a growing demand for a safe and efficient method of handling servers and other critical IT equipment in a data center environment. The company's innovative solutions improve data center efficiency, reduce risk and lower operating costs. With a focus on creating products focused specifically on the data center, ServerLIFT is the premier provider of server handling solutions world-wide. Industry leading organizations rely on ServerLIFT to streamline operations and modernize their data centers.