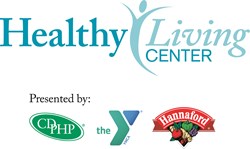 Albany, NY (PRWEB) August 27, 2013
The Capital District YMCA, CDPHP, and Hannaford Supermarkets are proud to announce the Healthy Living Center, an innovative, community-centered wellness facility that will offer a holistic approach to health and well-being, as well as assistance with health insurance needs.
Located inside Hannaford Supermarkets at 900 Central Avenue in Albany, NY, the Healthy Living Center represents a unique partnership between three leading Capital Region organizations that are committed to promoting health and wellness. The concept of partnering with other entities to create and operate a wellness center focused on the needs of a particular community is a first on the national level for each of the organizations.
The 5,277-square-foot Healthy Living Center will offer the community a variety of programs that support healthy living and wellness in the community, such as group exercise classes, weight management classes, nutrition seminars, personal training and senior fitness classes, as well as programs that address specific health needs, such as the Pedaling for Parkinson's and diabetes prevention programs. Fees may apply for some offerings.
"Every day, there are individuals in this community who are struggling and believe health and well-being isn't something they can hope for. They may be dealing with financial burdens, have tried and failed to be more active, or feel isolated and without the support of family and friends. Whatever their challenges, we're here to extend a hand and an invitation: give us a chance to help," explained David Brown, the President and CEO of the Capital District YMCA.
"CDPHP takes seriously our responsibility to support the health, vibrancy and quality of life for the communities we serve. Whether you're taking a wellness class or selecting health care coverage, the Healthy Living Center will provide a convenient space for local residents to meet their health and wellness needs," said Dr. John D. Bennett, President and CEO of CDPHP.
"Hannaford is deeply committed to addressing the health and wellness needs of the communities in which we live and operate. The Healthy Living Center will provide a critical service to individuals and families throughout the Capital Region," said Rudy DiPietro, vice president of retail operations for Hannaford Supermarkets. "We look forward to welcoming our shoppers to this pioneering facility which will undoubtedly serve as a new model for community health services."
The Healthy Living Center is expected to open in early October and will be open to the public. The Center will be open from 10 am to 2 pm and 4 pm to 8 pm, Monday through Friday, and 12 pm to 4 pm, Saturday and Sunday. The space will feature a group exercise room, fitness equipment, personal lockers and shower facilities.
Member services representatives from CDPHP will be available daily to answer questions regarding health and insurance needs, and will also be available to help people understand their Medicare and New York State Health Exchange options.
About Capital District YMCA
The Capital District YMCA is one of the 35 largest YMCA associations in the country and one of the largest membership-based community service organizations in the capital region. The Y is one of the nation's leading nonprofits, strengthening communities through youth development, healthy living and social responsibility. The Y nurtures the potential in children and teens, improves the nation's health and well-being, and provides opportunities to give back and support neighbors. For more information, visit http://www.CDYMCA.org or call 518.869.3500.
About CDPHP®
Established in 1984, CDPHP is a physician-founded, member-focused and community-based not-for-profit health plan that offers high-quality affordable health insurance plans to members in 24 counties throughout New York. CDPHP is also on Facebook, Twitter, LinkedIn and Pinterest.
About Hannaford Supermarkets
Hannaford Supermarkets, based in Scarborough, Maine, operates 182 stores in the Northeast. Stores are located in Maine, New York, Massachusetts, New Hampshire, and Vermont. All Hannaford stores feature Guiding Stars, America's first storewide nutrition navigation system and most stores have full-service pharmacies. Additional information can be found at http://www.hannaford.com.
For Further Information, Contact:
Erin Breslin for the Capital District YMCA
518.869.3500
ebreslin(at)CDYMCA(dot)org
Ali Skinner for CDPHP
518.605.4497
askinner(at)cdphp(dot)com
Mark Bardack or Caitlin Merrill for Hannaford Supermarkets
Ed Lewi Associates
6 Chelsea Place, Clifton Park, NY 12065
P: (518) 383-6183
C: M. Bardack (518) 867-7943 or C. Merrill (518) 867-2440
E: mbardack(at)edlewi(dot)com or cmerrill(at)edlewi(dot)com