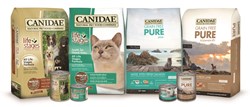 "We're proud to partner with a company that shares our core values and beliefs in caring for pets' overall well-being"
San Luis Obispo, CA (PRWEB) August 29, 2013
CANIDAE Natural Pet Food Company announced today that as of October 1, 2013, its Life Stages and Grain Free PURE formulas will be available at all Petco and Unleashed by Petco stores nationwide, and online at petco.com, making Petco the first and only national retailer to carry the US-made line of natural pet foods.
"We're proud to partner with a company that shares our core values and beliefs in caring for pets' overall well-being," said Frank Hon, Vice President of Global Sales for CANIDAE. "Making our products available at Petco will provide widespread and convenient access to our customers and give us the ability to direct more funding to continued nutritional advances, new product launches and more consumer discounts. We're excited about this new partnership and we remain strongly committed to the pet specialty retail market."
CANIDAE's product line includes Life Stages, a complete line of dog and cat foods in dry and canned formulas for pets of all life stages, made with real meat or fish and a nutritious blend of whole grains, fruits, vegetables and herbs; and Grain Free PURE dog and cat formulas, made with 10 or less key ingredients, including fresh meat or fish, whole foods and vitamins.
"We're thrilled to add CANIDAE to Petco's industry-leading assortment of natural pet food brands," said John Sturm, Petco's Vice President of Merchandising for food and treats. "Like Petco, we know CANIDAE is committed to providing pet parents with high-quality, natural products to keep pets healthy and happy."
All CANIDAE dry formulas include HealthPLUS Solutions™, applied to every kibble after the cooking process to ensure guaranteed levels of live probiotics for healthy digestion, powerful antioxidants for a healthy immune system, and omega 6 and 3s for beautiful skin and coat. None of the foods contain corn, soy, wheat, fillers, antibiotics, hormones, or artificial colors, flavors or preservatives.
For more information on CANIDAE's complete line of natural pet foods, visit http://www.canidae.com. For more information on Petco or to find a Petco or Unleashed by Petco store near you, visit http://www.petco.com or http://www.unleashedbypetco.com.