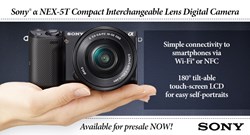 Brooklyn, New York (PRWEB) August 28, 2013
Focus Camera is pleased to announce that it is one of selected Camera retailers in the United States to carry Sony's recently released cameras and lenses. Sony unveiled two new cameras, the Sony Alpha A3000 DSLR camera and the Sony Alpha NEX-5T interchangeable lens camera along with two new E-mount lenses i.e. the Carl Zeiss mid-range zoom lens and the high performance E PZ 18-10mm F4 G OSS E-mount lens.
The announcement comes as pleasant surprise to Focus Camera, which has been carrying Sony's products for more than two decades.
Product Features
Sony Alpha A3000 DSLR Camera: Designed to bring the benefits of large sensor imaging the a3000 uses the same format that Sony builds into its full-sized DSLR cameras. The camera's lightweight body and dependable grip enables you to hold it securely for worry free shooting. A bright rear LCD screen can be used to compose images and full HD videos at arm's length. The a3000 offers a total of 11 types of Picture Effects to choose from, each giving you new and exciting ways to make your images and videos stand out.
Sony Alpha NEX-5T Interchangeable lens Camera: Creatively, the new NEX-5T allows you to accomplish a lot more. It is equipped with a tilt-able LCD screen that flips 180-degrees without sacrificing the compactness for which the 5 series is known for. It is also compatible with Sony's wide selection of E-mount series of small and lightweight lenses. The camera can automatically detect and register up to eight individual faces, and instantly adjust focus, exposure and white balance to deliver crisp, clear properly lit images.
The Vario Tessar T*E 16-70mm F4 ZA OSS lens: This high performance mid-range zoom lens produces outstanding contrast and resolution throughout the image area at all zoom settings. Its 4x zoom range extends from 24mm to 105mm making it ideal for everyday shooting. A constant F4 maximum aperture throughout the zoom range allows the user to use optimum exposure parameters. Moreover, the Zeiss T* anti-reflective coating minimizes flare and ghosting contributing to natural color and excellent clarity.
The E-PZ 18-105mm F4 G OSS lens: The G lens series has always been known for its high quality, and this special lens made for the E-mount camera has two ED glass elements and three aspherical elements for high resolution and contrast throughout the entire zoom range. The lens covers a variety of shooting situations from wide angle to telephoto. Optical image stabilization is also incorporated in the lens to reduce image blur and improve the quality of your photos in low light or other challenging situations.
Availability
The new Sony A3000 DSLR camera and the Sony NEX-5T interchangeable lens camera along with the two E-mount lenses i.e. the Carl Zeiss mid-range zoom lens and the high performance E PZ 18-10mm F4 G OSS E-mount lens are available for pre-order at Focus Camera.
Focus Camera
Focus Camera operates as a specialty online retailer and store, among its listed items for sale are a range of camera and photography equipment which include digital cameras, camcorders, digital frames and other consumer electronics and home appliances. For more information on its featured products and their descriptions visit http://www.focuscamera.com or http://www.asavings.com