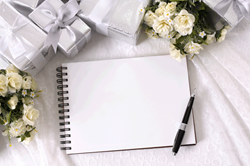 Englewood, FL (PRWEB) August 28, 2013
GiftLogic, a software development firm known for its point-of-sale software for retailers, now offers a gift registry suite to enhance retail stores across America. According to a GiftLogic spokesperson, "Gift registry is quickly becoming a must-have for gift shops across America. We provide complete solutions for the growing needs of retail owners."
The Gift Registry software works exclusively with GiftLogic's point-of-sale software. Current GiftLogic software users can add the Gift Registry suite to their GiftLogic POS software for a one-time purchase with no monthly fees or contracts. New users can take advantage of GiftLogic's complete POS system which includes a Dell PC, register POS, barcode scanning, inventory management, purchasing and receiving, and much more.
GiftLogic's Gift Registry allows independent gift and specialty shops to offer sophisticated gift registries just like their corporate-run competitors do. Designed with the small shop owner in mind, GiftLogic's Gift Registry offers chain store-like gift registry features at an entry-level price.
Customers create gift registries through a computer or by using a hand-held scanner. They then share their gift registry with their event attendees who can quickly and conveniently purchase gifts through the registry. Gift givers can also search the registry by event type, event date, and registrant. Whenever a gift registry item is purchased, GiftLogic POS automatically prints a gift receipt linked to the gift registry.
About GiftLogic
GiftLogic's flagship point-of-sale software is intuitive, easy-to-use, and loaded with industry-standard features. It is a complete retail POS solution that is backed by a team of dedicated developers and support staff. All research and development, sales, and support are handled in the United States. GiftLogic software is continually enhanced to ensure productivity and functionality. Adding Gift Registry to GiftLogic's POS system allows small retailers to offer custom gift registries for virtually any occasion.