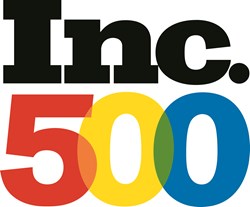 Our vision is to constantly strive to create flexible, yet effective, monetization solutions to generate maximum revenue for our publishers and produce high quality, cost-effective leads for our advertising partners.

-Fehzan Ali, Adscend Media
Austin, Texas (PRWEB) August 29, 2013
Adscend Media, a leading online advertising network, announced today that the company has received a ranking of #396 on the 2013 Inc. 500 list. Produced by Inc. magazine, the Inc. 500 list profiles the top five hundred privately held companies in the United States with the highest growth in earnings over a three-year period. Within the Inc. 500 list, Adscend Media also received a ranking of #47 in the category of Advertising and Marketing Companies.
"We are extremely proud of our team for this achievement, and to be recognized alongside of such amazing companies as LivingSocial, ReverbNation, and Trulia, is quite an honor," stated Adscend Media CEO, Fehzan Ali, upon being notified of Adscend's inclusion on the Inc. 500 list.
Since Adscend's inception in 2009, the company has focused on creating innovative monetization solutions, including content locking, virtual rewards, and affiliate marketing technologies for their publishers and advertising partners. For publishers, Adscend's monetization solutions, such as content locking, provide publishers with the ability to offer their premium digital content items (e.g. eBooks, songs, movies, coupon codes, online games, mobile apps) to their users free of charge, while still allowing for revenue generation from their premium digital content items.
Adaptable to virtually any digital content item, Adscend's content locking technology restricts a user's access to a particular digital content item until that user completes an offer from an Adscend advertising partner. Upon completion of the offer, the user receives their desired digital content item and the Adscend publisher who is hosting the item receives a commission.
Adscend's monetization solutions have also helped the company continue to build upon a stable base of brand-name advertising partners. Currently, Adscend has the ability to generate leads for their advertising partners in over 180 countries and through multiple cost per acquisition (CPA) campaign formats.
According to Ali, Adscend's unique monetization solutions were an integral part of the company's 1,123% growth in earnings from 2009-2012, resulting in Adscend's Inc. 500 list ranking.
"Our vision is to constantly strive to create flexible, yet effective, monetization solutions to generate maximum revenue for our publishers and produce high quality, cost-effective leads for our advertising partners. Our steep increase in revenue over the last few years is a great indicator that our efforts are aligned with our vision," states Ali.
For more information on Adscend Media, please visit http://adscendmedia.com/.
About Adscend Media
Founded in 2009, Adscend Media is a leader in the online advertising space, focused on developing innovative, turn-key digital content monetization solutions. Adscend Media's content locking solutions allow publishers to maximize revenues from their premium content, and realize earnings far beyond that of traditional CPM advertising. Adscend's vast global reach and high engagement solutions also allow advertisers to acquire new customers, perform market research, and ultimately grow sales. Each month, Adscend's offer platform features offers targeted to users in over 180 countries and delivers over 500,000 actionable leads per month to their advertising partners.