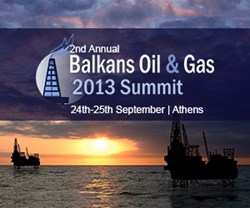 It's an IRN Summit!
Athens (PRWEB UK) 28 August 2013
Earlier this month, the Ministry of Economy of Montenegro published an official announcement inviting oil and gas companies to apply for the licensing round that will remain open for tenders from 7th August until the 28th February 2014. The tender invitation covers a completely unexplored offshore area of 3.191 km² with 13 blocks in total to be awarded.
It's expected that many of the oil and gas companies already operating in Balkans and international oil companies will look to get involved in the upcoming exploration with many having already expressed their interest.
The 2nd Annual Balkans Oil & Gas 2013 Summit, taking place on 24th-25th September at the 5* Grande Bretagne Hotel in Athens, will host Hon. Vladan Dubljevic, Deputy Minister for Mining and Geological Researches, Ministry of Economy of Montenegro, who will present the opportunities that the new licensing tender will create for the companies that wish to get involved in the industry.
Seismic data company, Spectrum was recently awarded a license by Croatia to conduct a preparatory seismic survey; Hon. Alen Leveric, Assistant Minister of Economy in Croatia will speak at the summit offering insights about the upcoming licensing round and a senior level representative from Spectrum will be presenting on their newest projects in this booming region.
A new drilling campaign also began in Greece on 26th August by Energean Oil & Gas, and the company's Chairman and CEO, Mr. Mathios Rigas will be at the Summit delivering a presentation. The company has invested $60 million to the program that involves drilling in four wells in 2013 in the Prinos and Prinos North Fields, and plans development drilling on the offshore Epsilon field in 2014. Hon. Ioannis Maniatis, Minister of Environment, Energy and Climate Change in Greece will be also presenting at the 2nd Balkans Oil & Gas Summit to give insights on the developing oil and gas sector in Greece.
The Summit will be a networking platform between the key players of the region and the companies that are looking to get involved. The event is sponsored by Weatherford, AVEVA, NRC and Spectrum.