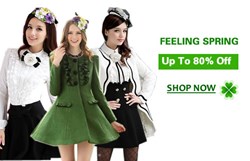 (PRWEB) August 28, 2013
Recently, 4leafcity.com, the renowned web store for women outfits, has added stylish long sweater dresses (http://www.4leafcity.com/product-sweater-dresses-003004008.aspx) to its women's dress collection. The sweater dresses are available at very cheap rates. In addition to this, for the upcoming winter season, the website has also featured cheap long sleeve dresses (http://www.4leafcity.com/product-long-sleeve-dresses-003004007.aspx) which are trendy and colorful.
The sweater dresses and the long sleeve outfits are set in various chic colors and have different patterns to make them look trendy and elegant. These dresses are made from soft and high quality fabric material which is stitched under controlled conditions so that the resultant output dress meets standards of quality as well as satisfies customer demands. Keeping in view the upcoming fashion trends, these dresses are set so that they look fashionable. Despite their quality and class, these dresses are made available for the customers at very friendly prices. The company aims to provide ravishing clothes to every lady out there. So, whether it is about getting a sweater or a long sleeve outfit, 4leafcity.com is the best place where customers can find a wide variety at low prices. The company states, "We aim to be exciting and innovative, offering our customers the fashion they want, when they want. To stay in touch with the ever changing trends within our market we have developed a dynamic and very responsive organization."
Under a dedicated team of experienced personnel, the company offers innovative products which meet the exact needs of its customers. Customer satisfaction is the company's topmost priority as it says, "we are firmly focused on our customer's needs."
4leafcity.com was established in the year 2008. It is based in Shenzhen, China. The company operates worldwide and specializes in supplying women clothes, men clothes and different accessories.