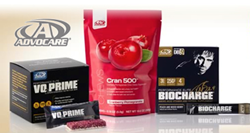 Rockville, MD (PRWEB) August 29, 2013
368 Performance of Maryland is pleased to announced that it is an authorized distributor of AdvoCare products. AdvoCare, a premier health and wellness company, offers world-class nutrition, weight-loss, sports performance and energy products. AdvoCare is endorsed by star professional athletes such as football stars Drew Brees and Jason Witten, as well as hockey star Joffrey Lupul.
Being a great resource for health products, AdvoCare integrates perfectly with 368 as its products will enhance the training that 368 does for its clients. 368 is proud to stand behind nutrition products that will enhance their clients' everyday lives as well as boost their training experience. 368 strongly believes in being affiliated with quality products for its athletic client base.
About 368 Performance: 
368 Performance represents the concept of optimal fitness and wellness encompassing essentials of athleticism such as strength, power, flexibility and more. From the general population to professional athletes, 368's staff trains the body to depend on itself with full range of motion movements and strength building scenarios.