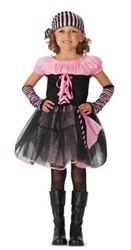 New Berlin, WI (PRWEB) August 28, 2013
Orange Tuesday is the new Black Friday. Just like Black Friday signals shoppers to focus on the upcoming holidays, Orange Tuesday, the day after Labor Day, is when shoppers begin to think ahead to fall events, especially Halloween.
"At CostumeExpress.com, we have found that our visitor numbers nearly double from August to the first week in September, which indicates the starting point of the Halloween season," said Dana Palzkill, vice president of Merchandising for CostumeExpress.com. "Therefore, we are taking this focus to a new level with Orange Tuesday, and offering shoppers the lowest prices ever with a one-day-only Halloween sale."
On Orange Tuesday, Sept. 3, CostumeExpress.com, is holding a one-day-only sale offering up to 50 percent off the hottest costumes, plus limited-time, lowest prices ever on Pumpkin Busters, similar to "door busters" on Black Friday. In addition, a special discount will be offered on non-sale items, and free shipping for orders of $75.
Savvy shoppers are encouraged to sign-up for e-mails from BuyCostumes.com at http://goo.gl/Ns5qeu to gain early access to sale items, exclusive offers and secret surprises surrounding the sale.
"More than any other day of the year, Halloween allows children to express themselves and let them be who they want to be, and CostumeExpress.com offers the best costume options," said Palzkill. "In addition, we offer piece of mind. It's no secret that some kids might want to be a superhero at breakfast, a pirate at lunch, and a cowboy by dinner. So, Costume Express.com is allowing parents to make as many free exchanges as they need with its 'I Want to Be Guarantee.'"
Examples of not-to-be-missed deals for Orange Tuesday include:

For additional information on the I Wanna Be Guarantee, visit http://www.costumeexpress.com/info/19.
Orange Tuesday will offer savings from 12:01 a.m. – 11:59 p.m. CST on Tuesday, Sept. 3. A limited quantity of Pumpkin Busters are available, and only for early birds from 12:01 a.m. -1 p.m. CST.
CostumeExpress.com is the family-friendly internet retailer of costumes and costume event décor, and the place to shop for year-round costume and dress up needs. CostumeExpress.com is one of the brands of BuySeasons, Inc. Founded in 1999, BuySeasons, Inc. is the leading online retailer of costumes, accessories, party décor and supplies for year-round celebrations and entertaining. BuySeasons, Inc. owns and operates BuyCostumes.com, as well as BirthdayExpress.com, CostumeExpress.com, 1stWishes.com and CelebrateExpress.com. BuySeasons, Inc. is a wholly owned subsidiary of Liberty Interactive Corporation.