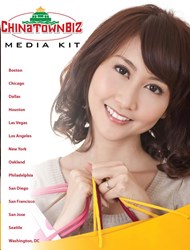 Houston, Texas (PRWEB) August 28, 2013
http://www.Chinatownbiz.com currently operates as an online coupon shopping guide for all users and linking 14 American ChinaTown cities: Boston, Chicago, Dallas, Houston, Las Vegas, Los Angeles, New York, Oakland, Philadelphia, San Diego, San Francisco, San Jose, Seattle, and Washington, DC.
ChinaTownBiz.com is updated daily to ensure that its visitors have the most current tabs on their favorite sale items, news, and personal information.
ChinaTownBiz.com's goal is to become one of the leading provider of ChinaTown B2C coupon-based shopping services and information over the Internet.
ChinaTownBiz.com products and services make it easy to locate, browse, and buy from local businesses. In short, ChinaTownBiz.com offers and distributes fine quality products and services safely, quickly and cost effectively to Internet users.
ChinaTownBiz.com users will discover other online services such as entertainment news, sports news, chat ability, employment, real estate news, coupon shopping, and business news. Visitors will be able to shop a given product or service at 24/7 any time of the day, over and over with the click of the mouse.
ChinaTownBiz.com also uses traditional media outlets such as broadcast television, cable television, print, radio, direct mail, etc. to increase awareness and drive traffic to the site.
For ChinaTownBiz.com advertising inquiries, please contact:
advertise(at)chiantownbiz(dot)com