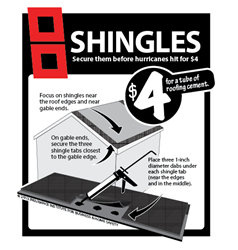 Tampa, Florida (PRWEB) August 29, 2013
On the eighth anniversary of Hurricane Katrina's devastating landfall on the Gulf Coast, the Insurance Institute for Business & Home Safety (IBHS) offers five low-cost solutions for residents to protect their home against potential damage from a storm. Most of these home improvement projects are do-it-yourself tasks that can significantly reduce the greatest property risks posed by hurricanes – wind and water intrusion in the house. These projects can be completed by a homeowner or with the help of a contractor.
These projects focus on the following five S's – shingles, soffits, seals, surroundings and shutters. (Infographic provided for each project at: http://www.disastersafety.org/disastersafety/five-affordable-home-projects-to-reduce-hurricane-damage/.)
1. Shingles - Spend $4 on a 10 oz. tube of roofing cement and use it to re-adhere loose shingles to prevent water damage to your roof decking. One tube = 25 feet of shingles.

Focus on shingles near the roof edges and near gable ends.
Place three one-inch diameter dabs of roofing cement under each shingle tab (near the edges).
On gable ends, secure the three shingle tabs closest to the gable edge.
This should be done at least two weeks in advance of a storm to allow the cement to adhere properly.
2. Soffits - Spend $6 for 10 oz. of polyurethane sealant and stainless steel screws, and use to secure your soffits to the walls and fascia to prevent them from blowing off. IBHS research has found that soffit materials are missing in approximately 75 percent of homes that suffer significant hurricane damage. When soffit materials are blown off, the result is wind and water damage to the roof decking, attic and possibly the home's interior.

Apply a bead of sealant along the joint between the edge of the channel and the wall and the track holding the soffit panels.
Install sharp pointed stainless steel screws through the fascia and channels so that they connect the soffit material.
Apply sealant in the grooves where the fascia material butts up against the fascia and wall channel.
3. Seal Gaps - Spend $2 on 10 oz. of caulk and use to seal gaps in outer walls to prevent water intrusion. Focus on the following areas:

holes where wires, cables and pipes enter and exit the house;
openings for cable TV and telephone lines;
all the way around electrical boxes and circuit breaker panels;
pipe penetrations including air conditioning refrigerant lines and condensate lines, water heater pressure relief lines and water pipes; and
cracks around wall outlets, dryer vents, bathroom and kitchen vents and electrical devices such as wall lights.
4. Surroundings –Secure your surroundings to prevent damage from flying debris.

Spend $3/bag and replace gravel/rock landscaping materials and walkways with a softer material, such as mulch or dirt. In a particularly strong hurricane, gravel has been found in mail boxes and has shredded vinyl siding. Work with neighbors to make sure everyone's home is protected from this risk.
Secure loose objects in the yard, such as lawn chairs, toys, garbage cans or signs, so they don't become flying missiles during high winds.
Trim trees and shrubbery away from structures and remove any weakened sections of trees that might easily break off and fall onto structures.
5. Shutters –Spend $9-$30 per square foot of openings for shutters to protect against wind-borne debris and pressurization. See what happens when a house pressurizes during hurricane-force winds because the openings were not protected. Find more guidance in the IBHS Shutter Selection Guide.

Determine what openings need protection; this should include all windows, entry doors, sliding glass doors, garage doors and gable end vents.
Choose permanent window and door protection, or install permanent fasteners before storm warnings, and pre-cut shutter panels so they can be put in place quickly.
Choose shutters with the proper approval for impact-resistance. Look for these ratings: Florida Building Code TAS 201, 202, 203; ASTM E 1886 and 1996-03; or Miami-Dade Protocols PA 201, 202, 203.
Editor's note: This release and the five downloadable infographics are available on IBHS' website at: http://www.disastersafety.org/disastersafety/five-affordable-home-projects-to-reduce-hurricane-damage/.
# # #
About the IBHS - IBHS is an independent, nonprofit, scientific research and communications organization supported by the property insurance industry. The organization works to reduce the social and economic effects of natural disasters and other risks on residential and commercial property by conducting building science research and advocating improved construction, maintenance and preparedness practices.